Each piece of John Hardy jewelry comes with a story, an epic actually, a three-volume page-turner. And every one of these stories starts in the not too long ago, when Canadian artist John Hardy moved to the Indonesian island of Bali. It was the mid-1970s and he was surrounded by exciting new experiences. He found vibrant floral hues and lightning-quick animals. There were new ways to cook, and new words to learn. Even the light from the sun seems different near the equator. Then John met the artisans. These artisans could weave and carve and hammer and forge raw materials in a way that offered glimpses into the island's ritual and tradition. These artisans could capture color and suspend the weight of metal. They could record the birth of a week old baby, or chronical lore as old as Bali's ancient royal courts. They knew how to turn memories and ideas into an art form, an art form that celebrated life. 
"I'm staying," he said, or words to that effect.
John dug deeply into his own artistic aesthetic and then created a community of artisans. His goal was to design and produce unique, handcrafted jewelry, and do it in a way that would reflect Bali's past and preserve its future. He succeeded. Today there are stores and boutiques across Asia and North America that bear his name, each helping to secure the Balinese way of life. The brand's methods and philosophies are recognized by conscientious stylemakers like Zendaya, Julianne Moore, and Adwoa Aboah.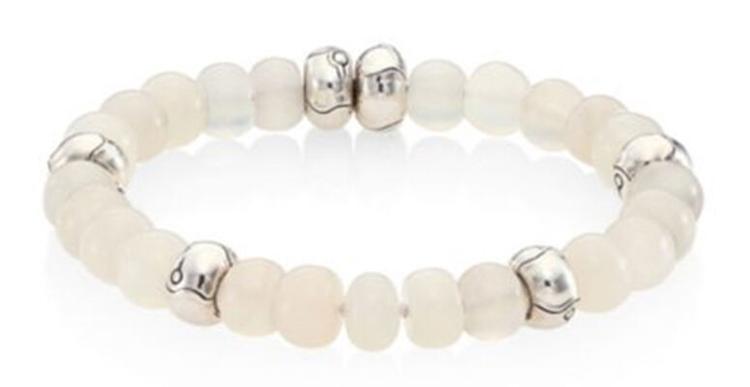 When it comes to respect for the land and the communities, the company sets exemplary standards with its sourcing of metals, diamonds, gemstones, and other natural materials. John Hardy has a campaign called "Wear Bamboo, Plant Bamboo (one of my favorites is the men's black braided leather with 18k gold bamboo-shape closure). For every piece purchased, trees are planted. (Visit the John Hardy website to see the images of the campaign's progress. There you can also find information on the Ubud Design Studio Workshop, the Jobs for Life Program, and the Artist in Residence programs.)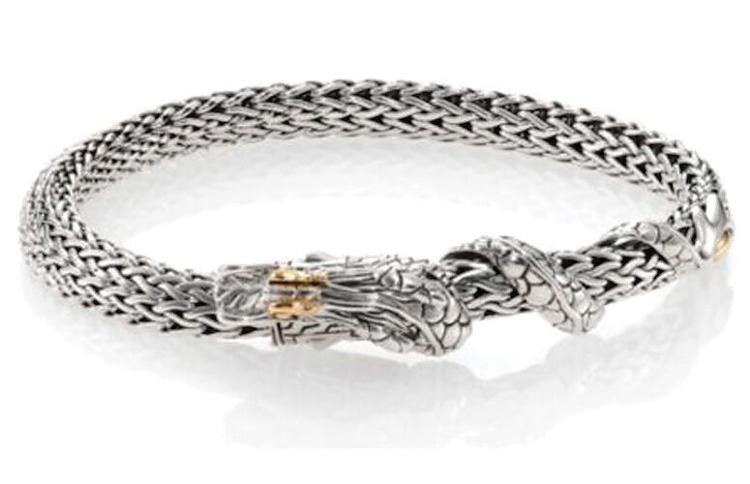 But what do I mean when I talk about respect for the customer? A few words from Hollie Bonneville Barden, John Hardy's creative director, may help: "I'm wearing the Modern Chain right now," she says. "It's so fluid, you kind of have to wear it to appreciate it. It's just that feeling of a second skin almost. It has a bold, amazing femininity to it."
I understand exactly where she's coming from when I see an image of the Modern Chain— its length, texture, and glow. The material is substantial, the markings precise. Of course, a pattern was followed. (Luck never looks like this.) And the pattern was followed by human hands. (Automation never looks like this either.) The piece has substance, yes, and yet it's delicate, elegant, and so clearly ready to adapt to a curve, a lift, any movement. The closer I look at the detail, the more detail I seem to find. It is just a necklace. But the impression sticks.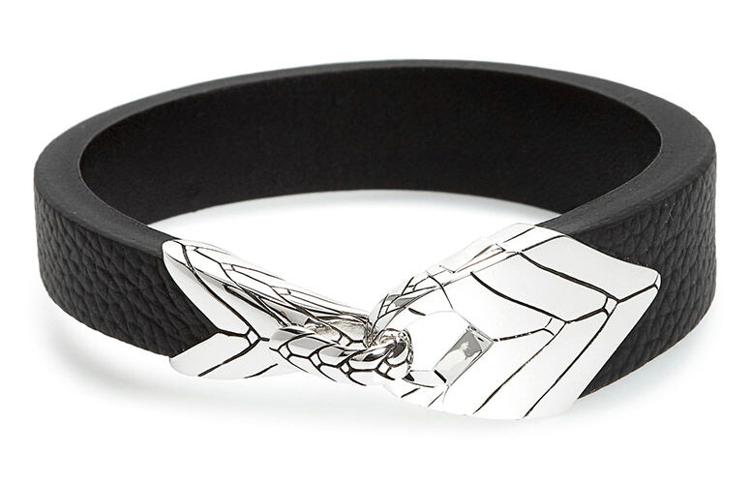 Later, as I read Barden's description of the Modern Chain and her tactile experience and emotional connectedness, I can see why I fell so hard for the piece. Falling hard is what happens when jewelry is created by artists and artisans who understand the human form and the human imagination.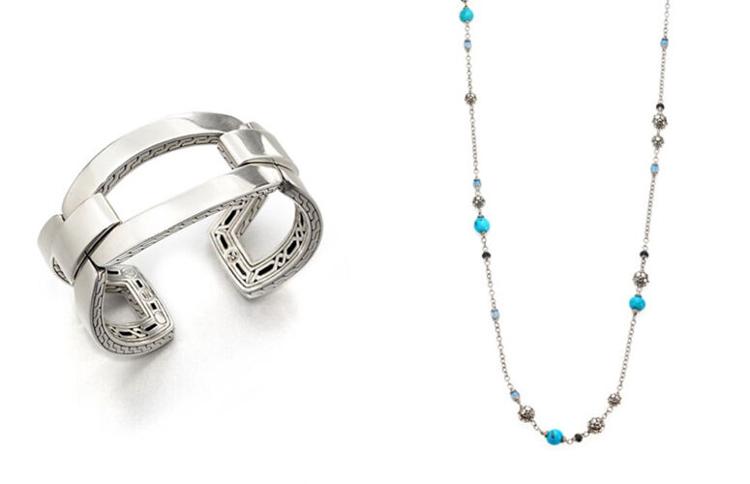 The expert on all of this, John Hardy's Creative Director, Hollie Bonneville Barden, will be in Buffalo this week. Barden earned her degree from Central Saint Martin in London, and was also the head designer at De Beers before accepting the position with the John Hardy company (now splitting her time in New York City and Bali). Her first collection at John Hardy focused on the Naga motif. She dived into the archives, put pencil to paper, and then played with dragons. She has not stopped exploring since. From an early start, inspired by her grandmother and all the jewelry that she used to share with her, to a recent unveiling of more than 500 pieces at a private viewing party hosted at Neiman Marcus Fashion Island to her presence in Western New York this week, Barden continues to explore and share her perspective on jewelry, sharing her personal story along with the rich histories that belong to the John Hardy creations.
Meet Barden at Tony Walker & Co on Tuesday, June 19, 6–9 p.m., for a night of wine, food, shopping, raffles and more. Buy tickets here.