Often the solitary one finds grace for himself.  — "The Wanderer"
As he lounges outside Gene McCarthy's in Buffalo's First Ward, artist Kyle Marler is sporting a tan that surpasses most seen on Western New Yorkers at this time of year. He's just returned from the South after a few months away on the road, the first leg of a yearlong journey of his Dream Wanderer.
Wrapped in pastel ice cream hues, the Dream Wanderer is Marler's most recent project as Flatsitter, an interdisciplinary media arts endeavor that is often collaborative but has become more of a nom de guerre for Marler. A step-van outfitted with a pair of virtual reality set-ups, guests enter Dream Wanderer two at a time, taking seats side by side before selecting hand-drawn tarot cards that work like an old school choose-your-own-adventure paperback. Once a guest dons the bulky Oculus Rift headset, noise canceling headphones, and umpire-like chest cover, Marler begins orchestrating the experience from a deck of computers located near the front of the van. Handcrafted thematic material is pumped into the system, providing a complex visual and audio tour augmented by an occasional real-world interjection of scent delivered by Marler via incense to round out the sensory experience.
Unlike Google Cardboard or any of the pricier virtual reality experiences readily available to consumers, Dream Wanderer offers an interpretation of the real world through the eyes of a media artist. Despite its relative accessibility, VR is still enough of an unknown that in today's predictable world, guests sometimes describe an initial feeling of  claustrophobia or nervousness about the unfamiliar experience. But take a deep breath. In the dark, the combination of music and looping commentary begins, and images float and flash around you—you're soaring, running, or standing still. You can look up or down and as far to both sides as your neck will crane. All around you is this place—this church, this bedroom, this night sky—and in your ears are the voices telling this particular Dream Wanderer story just above the whispers of Marler's heavily layered soundtrack and the occasional very real-life thrumming deposited by the weighted chest piece that hangs against your torso.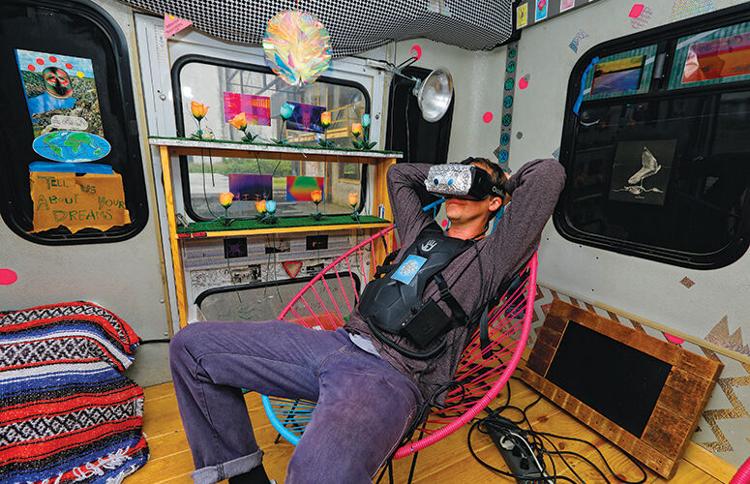 When I first visited Dream Wanderer, it showed Lily Dale, a series of VR experiences employing interviews and imagery collected by Marler at the southern tier community of the same name, a place that is home to over sixty psychics. Often associated with video games, virtual reality is what the programmer makes it, and I quickly realized Flatsitter's stylized visuals feel nothing like the VR video games or clips found elsewhere.
Before Flatsitter's nomadic cross country trek as Dream Wanderer, its installations have been site-specific, like White Buck, which took place in one of the massive buildings at Rick Smith's Silo City. Recordings of the Allegheny River Dancers performing inside the acoustically magnificent silo and Marler's accompanying imagery sought to deliver viewers what he calls a spirit journey, a motif that winds and wends its way through his work.
At the time, White Buck earned press and attention from the city's art scene, but the limitations of site-specific work led friend "Swannie" Jim Watkins to suggest Flatsitter go mobile. With support from Smith, Watkins, and a crowdfunding campaign, Dream Wanderer came to fruition in late summer of 2016, departing the Buffalo area by autumn. Flatsitter spent the better part of a year engaging audiences all over the country by opening Dream Wanderer's doors at galleries and community spaces for a day or two, or participating in well-respected art shows, such as Basel in Miami Beach, Moogfest in North Carolina, and Luminato in Toronto.
In July, Marler headed to Oaxaca as part of a short-term residency through Obaracadobra. There he created another immersive audio and visual experience, the subject of which he politely refuses to reveal during our interview. Despite not knowing the plot, title, or theme at the time this article goes to print, after several emails and two conversations with Marler, I'm certain it will echo, in part, his other work—his leitmotif, if you will—which he describes as "examining the peripheries of consciousness." Look for it as well as other work from Flatsitter to make its way through Buffalo in the last stretch of 2017.
​Follow Flatsitter and The Dream Wanderer on their websites or on Facebook and Instagram for updates regarding local pop-ups and events.         
Christa Glennie Seychew is a freelance writer with a passion for immersive experiences of all sorts.