The year is 1943. The Allies are on the verge of losing World War II, and the Germans are planning a surprise naval attack. Part of an elite group of military spies, we have infiltrated a Nazi bunker in search of an Enigma machine to help Alan Turing crack the German code and prevent the attack. But first, we must get out—without being detected.
Inside the bunker, a series of communiqués from our commanding officer give updates on the war and the attacking Germans, and point us toward clues—coded maps, ciphers, stamps, a film poster—that we must decipher to unlock more clues and get out. 
Have we searched the officer's coat hanging on the wall? What about the music that's been playing—could that hold additional secrets? British soldiers march past the door; another fifteen minutes has passed. 
Across town—and in decidedly more modern times—zombies have taken over a laboratory and trapped six researchers inside. Desperate to find a cure, they're hunting through locked cabinets, bloodstained folders, and colorful vials. "Do we want to maybe ask for a hint?" one asks.
"No," the others shoot back.
Welcome to the exciting world of escape rooms, a new form of interactive entertainment in which teams, usually of four to eight players, are locked in a room and must decipher a series of clues and puzzles to escape within an hour. It's part scavenger hunt, part logic game—and totally fun. Since October, six escape room facilities have opened in Western New York, with two more in Niagara Falls, Ontario. 
"It's like a live action video game, or something that allows players to take on the role of characters in a movie, say in the climax scene," says Jared Reichman, owner of Lock & Key Escape Room, where the zombie game is played. "It takes an elaborate video game and puts it in real life, where you're actually in the situation. And, it's a lot more social because you're going in there with a group of your friends."
Each room has a specific theme, with a storyline, décor, and artifacts that allow players to immerse themselves in that world. To design the World War II bunker—one of three rooms open at Trapped Games in Tonawanda—co-owner Parag Parikh drew from his passion for history, sourced 1940s props online, and then designed the puzzles around those items.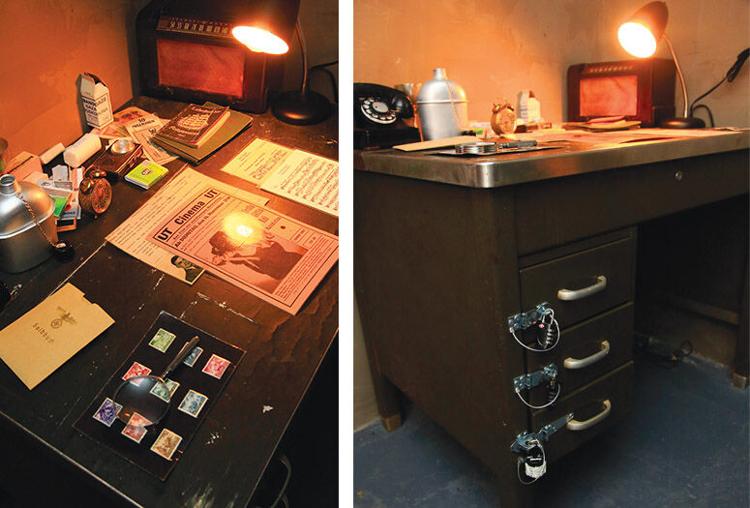 Trapped's other rooms transport players to a haunted hotel room in the 1970s (think The Shining) and off to Hogwarts, where two teams, sorted into Gryffindor and Slytherin, compete against the clock and each other.
"You can compare it closest to being in a movie you really enjoyed or a novel that you're really enthralled with," Parikh says. "We're trying to take you to a different time and place for an hour, where you're with people you know and are tasked with solving puzzles."
Escape rooms began in Japan in 2007, before spreading throughout Asia and Europe over the next few years. In 2012, they arrived in the United States and have grown increasingly popular ever since. As of December 2015, according to the online Escape Room Directory, there were over 1,200 sites with 2,850 individual rooms in 551 cities worldwide.
"If you haven't tried something like this, I can confidently say it'll be the most fun you've had in quite a long time. I've heard that from a lot of people and felt that way the first time I did it," says Parikh, whose first escape room experience was at a castle-themed room in Niagara Falls. "Especially if you love puzzles, if you love movies, if you love different narrative stories, I don't see anyone being disappointed."
Reichman says his customers run the gamut from teenagers and college students to families young and old. Teams must communicate and work together effectively to leverage their individual strengths and solve the puzzles, which lends itself well to corporate teambuilding outings, too. 
In a few short months, Parikh has seen repeat customers who played one theme and came back for another. He plans to introduce a new room quarterly to keep interest high and says that as the escape room audience grows, rooms in Buffalo could become even more sophisticated.
"What you're seeing in a lot of other cities is an even more immersive environment than what we see here," he says. "Some of the most successful rooms in Los Angeles that we've studied, and in Asia and Eastern Europe, have introduced live actors or multiple rooms that you solve on a sequential basis, like a trilogy."
Back in the German bunker, I'm using a magnifying glass to find a lock combination, while my teammate pores over a page of sheet music in search of another code. Suddenly, the door opens and the lights come on. We've failed this time—but are already making plans to try again.             
---
WNY Escape Rooms
Escape Room Buffalo
290 Oliver St., North Tonawanda
The Great Escape Room
300 Pearl St., Suite 125, Buffalo
Lock & Key Escape Room
504 Elmwood Ave., Buffalo
Perplexity Escape Room
5888 Main St., Williamsville
Queen City Escape
225 Louisiana St., Buffalo
Trapped Games
2171 Sheridan Drive, Tonawanda
Matthew Biddle contributes regularly to Spree.