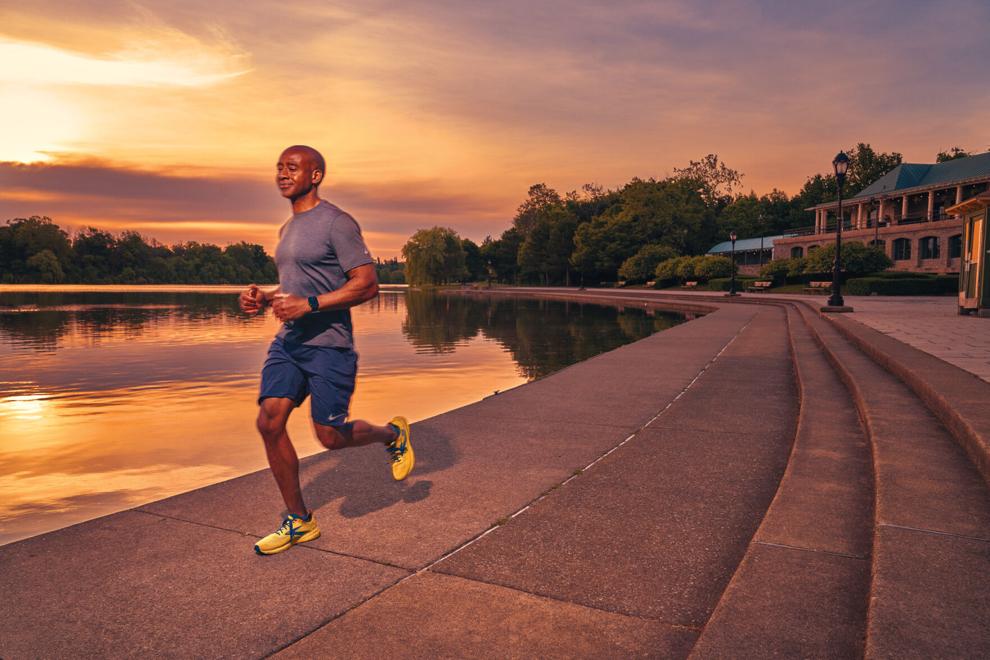 It's a semiwarm April evening in the Elmwood Village. "We got a lot of freaking people tonight," Al Lewis says, joyfully. "This is awesome. Everybody is out here." His Mister Goodbar Sessioneers' run-group has been getting together weekly for nearly two decades, and for the former powerlifter turned trainer and now distance runner, these hump day gatherings are opportunities for him to promote health and wellness through connection. 
Lewis holds his iPhone over his head to take a picture. "You know me and my photos," he giggles. Just about everyone obliges and finds their way into the shot. Minutes after the run concludes, Lewis will have post action shots with inspirational hashtags on Facebook and Instagram. It's nothing for him to stop in the middle of a course to capture moments that make it seem like any absentees missed out on the time of their lives. "Buffalo is one of the biggest running communities in the country," Lewis declares. "Just think about the draw we get from the annual Turkey Trot. Some people don't think about it, but there are some wonderful views in this area. Yeah I love to run, but I do it for the social aspect of it all, too. It's my people time."
Long before the world was handcuffed by the pandemic, exercise served as a means to decompress and maintain mental harmony. As more people struggle with depression, overeating, and sudden isolation, people like Lewis have been lighthouses of hope and resolve. "There's an element of accessibility that Al brings to exercise," says Jess Kent, a professional mediator and running newbie, who, back in the winter, began showing up to the three-mile run/walk events organized by the Jewish Community Center of Greater Buffalo's most out-front employee and promoter. 
After the first session, Kent realized there was something different about pounding the pavement with Lewis leading the way. "I was hooked," she says. "Al didn't start with a lecture. He said, 'We are going to move today, and you will be fine.' [Running] is something I've always struggled to do, so the pandemic was a great way to get motivated with baby steps. His biggest recommendation that allows me to stick with it is to stay slow and increase mileage ten percent each week. It removes all pressure."
Perhaps without even realizing it, the fifty-year-old Lewis has turned routine runs into community events that others look forward to. "He makes sure you're not alone," Kent adds, touching on how Lewis adjusts and meets everyone at their level and pace; he is known to get alongside someone, making sure no one is left behind. "It's a big deal for a beginner like me, who until a few months ago had never run a mile. I know that every time I show up, Al's positivity will remind me of the goodness of running."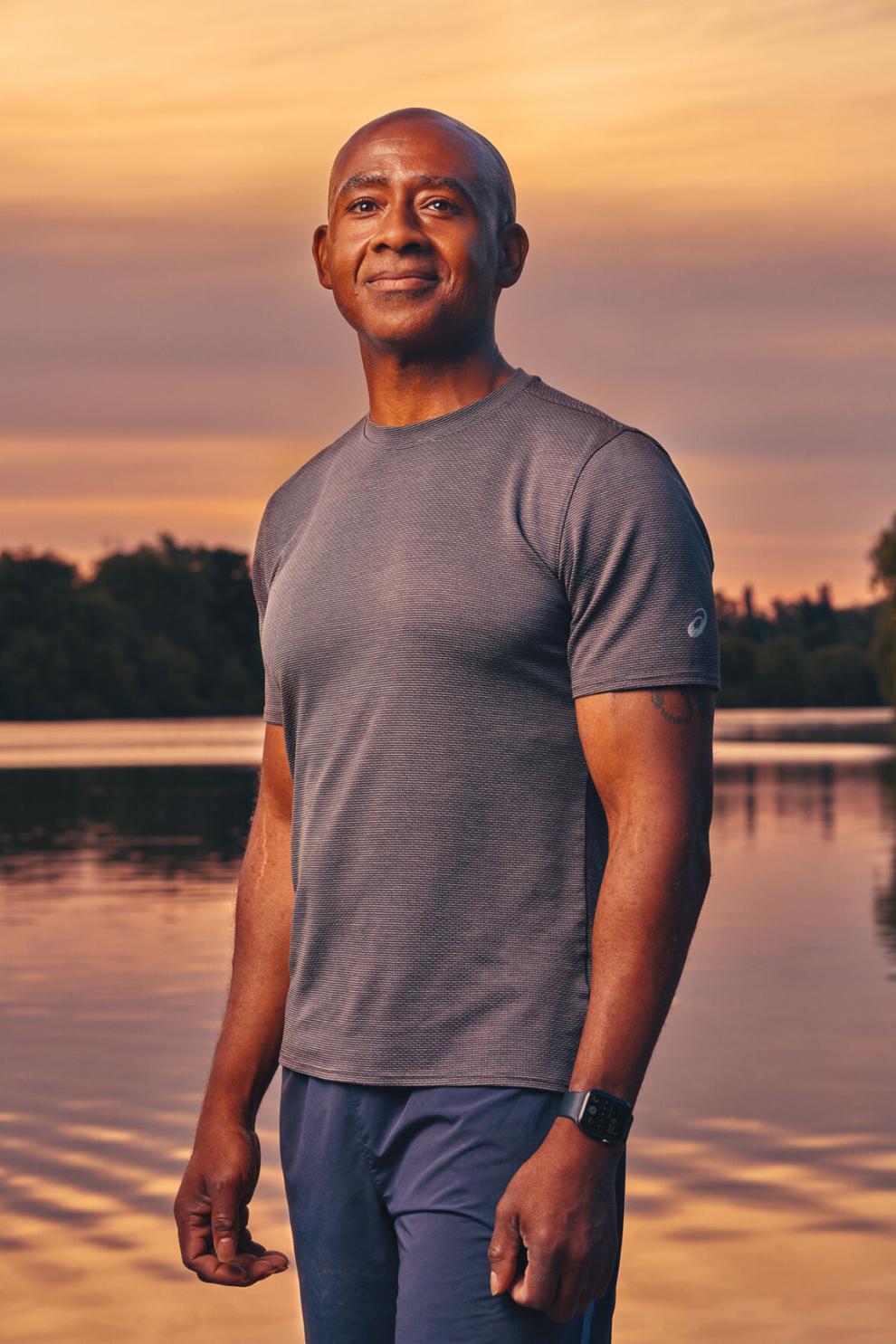 Lewis, a Riverside High School and Buffalo State graduate, began his journey  when he joined the Weightlifting Club his junior year of high school. That led him to  powerlifting and eventually competing in bodybuilding competitions around the US. Since then, he's completed countless 5Ks and half-marathons.   
Asked about the similarities between achieving goals in lifting and running, Lewis offers one word without hesitation: consistency. "That's really what it's about, having the motivation and drive to go after it once you identify your goal," he says. "I tell people that all the time. Goals and plans change, but the drive to stay disciplined is key to just about anything."
For Lewis, a twenty-two-year employee at JCC, mornings tend to start at 4:30 a.m. "Al has a relentless work ethic," says Rick Primerano, former Mr. Buffalo Bodybuilding Champion and owner of Primerano Cyber Fitness, who served as Lewis' fitness coach during his competitive show days. "Once he starts something, whether a bodybuilding competition, marathon, or powerlifting meet, you can count on him to be at his absolute best and ready to compete. To be honest, only few have [his] dedication, especially at his age; not many out there will outwork him."
Primerano describes his former client as having a huge heart, with a love of pushing himself that is infectious, in a good way. Catherine Spencer, a client of Lewis since early 2020, also speaks to the reach of his enthusiasm and positive voltage. After a long period of gym shut-downs, the two reconvened their wellness relationship and Spencer believes she is ultimately better for it. "Over the past year and a half, my mantra has changed from 'Just Show Up' to 'Keep Pushing,'" she states. "When we first started training together, I never thought I'd graduate to the big box for step ups. Now I can step rhythmically, loving every second of it. [He] empowers me to push, to work hard, to be confident in my physical abilities."
When the running community and its races couldn't be on display, Lewis became steadfast in highlighting and promoting fitness and distance challenges on his social media pages with the idea such exposure would not only encourage associates and strangers alike, but also showcase the city he loves. "During the pandemic, he would videotape himself doing push-ups in front of our and other small businesses to create advertising and support," says Dino Debell, owner of Allen Burger Venture. The athletic, political, and mercantile realms quite often produce figures who are products of souped up PR, yet, with Lewis, who can very well be described as the Mayor of Allentown, the act seems to have no expiration hour. Some categorize its sincerity as downright palpable.  
"He wants to see everybody do good," Lewis' younger cousin Emmanuel Land says. "He's been a trainer his whole life. Yeah, he's trying to inspire himself, but the things he wants for himself, he also wants for me and other folks." 
Land tells a story about an eighty-degree afternoon when he and his cousin met up to do what was supposed to be an eight-mile run. By the end of their time together, an exhausted Land had completed a half-marathon, thanks largely in part to his relative's assuring presence. "I was tired as hell, but I did it. [Al] wouldn't let me quit. I used to beat him in 5Ks, and we would try to compete to make each other better. When he started eating right and trimmed up, I couldn't touch him in a race anymore."
 "I'm impressed by the human body, its endurance," Lewis says. "Years ago, I never would've thought I would one day be able to run two straight hours. My grandfather passed away from a heart attack at forty-seven. My dad has battled prostate cancer. I knew it was important to make changes. I transitioned from powerlifting to running, mostly for the cardiovascular benefits, and I now recognize the role of nutrition in my life. Your health is wealth."
The Sessioneers have dispersed and gone their separate ways until next time. It's not uncommon for Lewis to find his way through the automatic doors of The Lexington Co-op following a Wednesday night road adventure. With the swipe of his big paw, he plucks a chocolate peanut butter Rice Krispie treat off the shelf like he stumbled upon a wad of cash that no one else sees. "These things are as good as a mug," he chuckles, holding the chunky block. 
A devout vegan, Lewis made the lifestyle switch in 2019 for no profound reason other than taking control over his health and longevity. "Food is fuel and excitement," he declares. "I mean I love food. Who doesn't? We all get happy when we eat. My problem is those sweets." Trips to Allen Burger Venture generally consists of the same order: the black bean burger with an accompanying garden salad. 
As the day winds down, a comfortable Lewis sits in front of a Mac laptop, chewing on half a meatless wrap in the living room of his Allentown apartment. A collection of Buffalo-themed paintings adorns the walls, some of which are gifts from past and present clients at the gym. In his makeshift office, a fleet of bodybuilding trophies stand on a bookcase shelf opposite the table that holds container vegetables he's growing under  soft light. His love for A Tribe Called Quest is on full display judging from a random playlist shooting out from the TV in the adjacent room. 
"Oh shoot, I double-booked for tomorrow," says Lewis, taking a break from reciting the band's lyrics, which are slightly out of sync with Q-Tip, Jarobi, and Phife Dawg's deliveries. "Aww man, I can't believe I did that. People come at me so fast, sometimes I mess it up." He texts both clients; one of them is able to switch her schedule, which prompts him to call the other. She, too, is able to oblige his request in what becomes a simple fix. All is well. A routine rat's chi is recalibrated and restored. 
"It may take longer for each person to reach a goal, but don't give up." Albert E. Lewis is talking to that person struggling to make an individual breakthrough. He or she is frustrated when they step off the scale, and inconsistency may be that taboo word that has marked their history. "Someone might say, 'Oh, I want to lose ten pounds in ten days,' but what if it takes a month or longer? We never know the timetable. It's about the journey. We all fight with discipline. Discipline does not mean perfection."
The temperature is moving toward seventy degrees on a Monday morning in mid-May. Never one to turn down an opportunity to get miles in, Lewis accepts an invitation to a five-mile-run that begins at Gallagher Pier. He runs happily along the Outer Harbor, sharing his thoughts freely within the theater of wandering sailboats and casual walkers. "Man, look at this," he says, admiring the blue water and a matching sky. "I just like the people here, all of the history connected to this town." 
A slight breeze comes off the water, causing the wind sculptures over Wilkeson Pointe to spin into action. He shares how he lost his beloved mother  to pancreatic cancer and an older brother to AIDS. Anyone who interacts with Lewis long enough will find there are chapters within his chapters, though they all create a plot framed by gratitude and perseverance.  
"During some very dark days of the pandemic, my spirits were lifted seeing Al posting videos of himself doing pushups in front of local businesses all around Buffalo," Spencer, who likens her trainer to a brother, says. "He wasn't only promoting wellness, but also our hometown. I've learned so much from him about dignity, grace and kindness." He impresses people with his own brand of sunshine.
Lewis' watch beeps and another mile is logged. The route is over six miles, but there are still rolling hills to conquer before he can hit save. He reaches the top of the last hill, and pauses, allowing his senses to ingest the scene before him: the passing cars and waddling geese below. "I'm just happy to be able to do it," he smiles. And then he descends the grassy slope with a feeling money can't buy, a feeling he's willing to share.