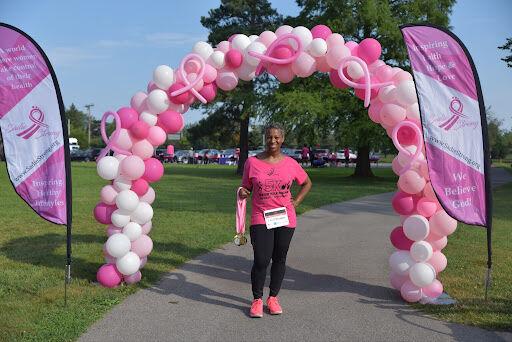 "It was the year that I turned 50 and I was living my best life!" said Sharon Sanford, when a routine breast screening mammogram changed her life. Sharon was a busy wife, mother and UB administrator, serving on various committees and an involved member of her local church. She had always been active and relatively healthy. "When the doctor called to give me the diagnosis, I was in shock. I didn't have a family history of breast cancer," Sharon says. "I was diagnosed with stage 2B triple-negative breast cancer that had spread to my lymph nodes."
Triple-negative breast cancer is a very aggressive type. Sharon met with a team of surgical oncologists at Roswell Park and they formed a treatment plan for her which included a lumpectomy to remove the cancerous breast tissue, eight weeks of radiation, four months of chemotherapy treatments, and six months of an oral chemotherapy pill.
"When I first visited Roswell, I felt compassionate care from every individual that I encountered. It began with the live music being played in the lobby to the cafeteria workers and extended to the nurses and doctors," Sharon recalls. "The experience was comforting. When I had my last radiation treatment, the nurses gathered with me to ring the bell celebrating my last treatment. The memories are lasting."
Sharon has now been cancer free for five years and found a way to leave a lasting legacy in her community. Sadie Strong is a charitable nonprofit breast cancer support organization that promotes the early detection of breast cancer and inspires healthy lifestyles to women, especially women of color, in the Buffalo Niagara region. "I turned my pain into purpose with hopes of creating a world where women take control of their health," Sharon said. 
One in eight women in the United States get breast cancer every year, and all women ages 40 and up should receive a screening mammogram annually. "I was feeling fine when I was diagnosed with breast cancer. Had I not gotten my annual mammogram, the breast cancer could have spread. Early detection is key," Sharon said.
Honor Sharon and survivors like her by scheduling your annual screening mammogram with the breast cancer experts at Roswell Park at their downtown or Williamsville location. Most mammograms are normal, but if yours isn't Roswell Park is where you need to be. Schedule yours today by calling 1-800-ROSWELL or visiting RoswellPark.org/mammo.
https://www.facebook.com/RoswellPark/