Animals have always been popular subjects in art. From depictions of dogs in cave paintings dating back to the Bronze Age, funerary art and cat-head deities in Ancient Egypt, and Ancient Roman mosaics to dogs playing poker or imagined as giant metallic balloons, artists have seen pets as muses.
The tradition lives on right here in Western New York. Hamburg resident and watercolor artist Shaunna Russell became an instant hit with animal lovers online when she started posting her brilliantly hued paintings of animals—both domestic and wild—on social media in 2013. And, since being featured in a video segment of Art Insider in January 2019, Russell has been swamped with commissions from around the globe.
Russell's work exaggerates and accentuates color without becoming chaotic or overwhelming. She achieves this balance by limiting herself to five or six really bright colors. Splashes of color stand in sharp contrast to brilliant white backgrounds and combine to vividly capture the spirit and character of her subjects.
We first wrote about Russell in the Spree 2019 Holiday Shopping Guide, where we featured her book, Colorways: Watercolor Animals: Tips, Techniques, and Step-by-Step Lessons for Learning to Paint Whimsical Artwork in Vibrant Watercolor (2019 Walter Foster). We were impressed by the way she encourages budding artists to capture the essence of animals and provides clear and useful tutorials on types of strokes, the best brushes for the job, using washes and underpaintings, and even how to fix mistakes in this most temperamental of media. Focusing less on realistic representation and more on creating vibrant, expressive art, this book invites learners to use imagination and skill to create unconventional and fanciful paintings.
While Russell paints animals of all sorts, she's best known for pet portraits. Spree caught up with her recently to learn what she's working on and what drives her artistic engine.
You are booked well in advance for pet portraits, but for people who want to commission one, what is the process?
I used to keep a waiting list, but it got a bit too messy and complicated. Now, people can simply sign up for the newsletter on the homepage of my website shaunnarussell.com. Every two months or so, I send out a newsletter via email with a specific time that I will open commissions, and people can grab a spot on a first-come-first-served basis. I always make sure that past clients are able to reserve another commission slot, or, if there is some specific date it is needed by, I'll do my best to work with you. Just send me an email!
Your how-to book Watercolor Animals came out late last year. How should non-experienced painters approach creating their own pet portraits? 
I always tell people that anyone can create art, and I sincerely believe that. The catch is it's about twenty percent good instruction and eighty percent practice. Who better to practice on than friends, family, and, of course, your own pet? If you are not confident in sketching, there is no shame in using a shortcut by tracing or using carbon paper to transfer an outline. Most important, just have fun! If you feel stressed out during the process, it will show.  There are also lots of helpful books out there, including my own, that will help you with some more detailed instruction.
Are you planning to do any online instruction?
Yes, I was an instructor in a big online art summit, and we were able to finish filming before the pandemic hit. It is still available to the public, but I also have more courses in the works. Watch my Instagram @weekdaybest  for more updates.
There's a long history of pet portraiture around the world. Why do you think people want pets captured in art?
Our pets are very special to us and can even impact our lives in significant ways. They provide love and companionship without judgment, and they come and go from our lives much too quickly.  Additionally, art is personal,  and it's a unique experience to have our pets immortalized in a painting. Folks don't necessarily just see a painting; they see the eyes of their pet. That is an important thing to understand about what I do for my clients.
How did you get started painting animals and pets?
Actually, I started by painting people! And I still do sometimes, but, eventually, more and more people started to ask if I could paint their pets. So I realized that is what people liked to see.
Where did the idea of using bright colors come from?
When I started painting with watercolor, I was painting with very traditional colors. But it's hard to stand out unless you really have a unique style. One day, I just painted these crazy portraits using primary colors, and, right away, people loved it! I just tried to get better and better at mixing colors in an interesting way. 
DIGITAL PET PROJECTS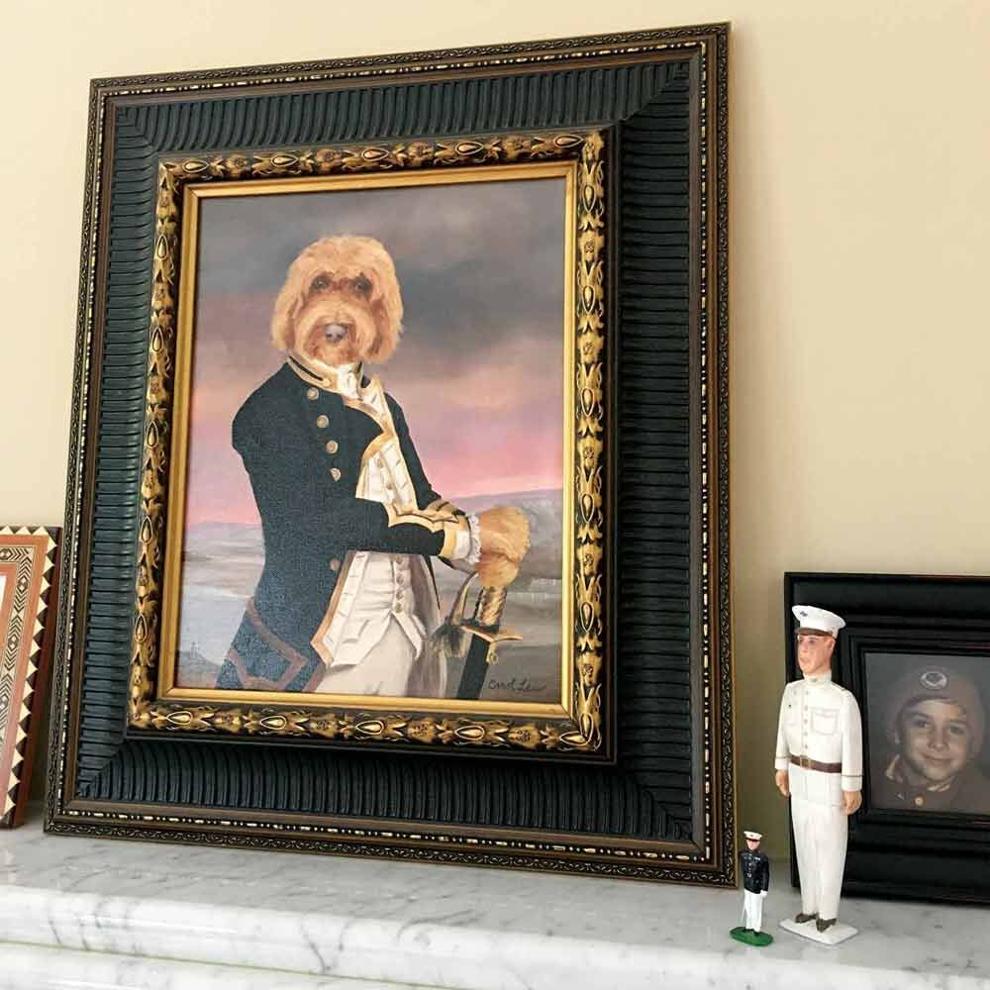 You've probably seen ads pop up in your social media stream of dogs and cats reimagined as a Napoleon or Henry the Eighth or even Santa's Little Helper from The Simpsons.
Companies like Renaissance Pet, Crown & Paw, and Royal Pet Pawtrait start with nineteenth century and Renaissance-era oil paintings and combine them with pets of all shapes and sizes. While the portraits are not painted in the traditional sense, they are crafted by professional artists.
Freelance portrait and caricature artists on services sites like Etsy and fivrr.com can paint your pet in Disney style, pop art, or realistic oil painting, include owners or other pets, or even put them in a scene from  your favorite movie.
The process must start with a very good quality photo of the subject. Photo tips:
• Use good lighting: outdoor daylight is preferable.
• Photograph your pet at eye level.
• Do a color check; artists work from what they can see in the photo.