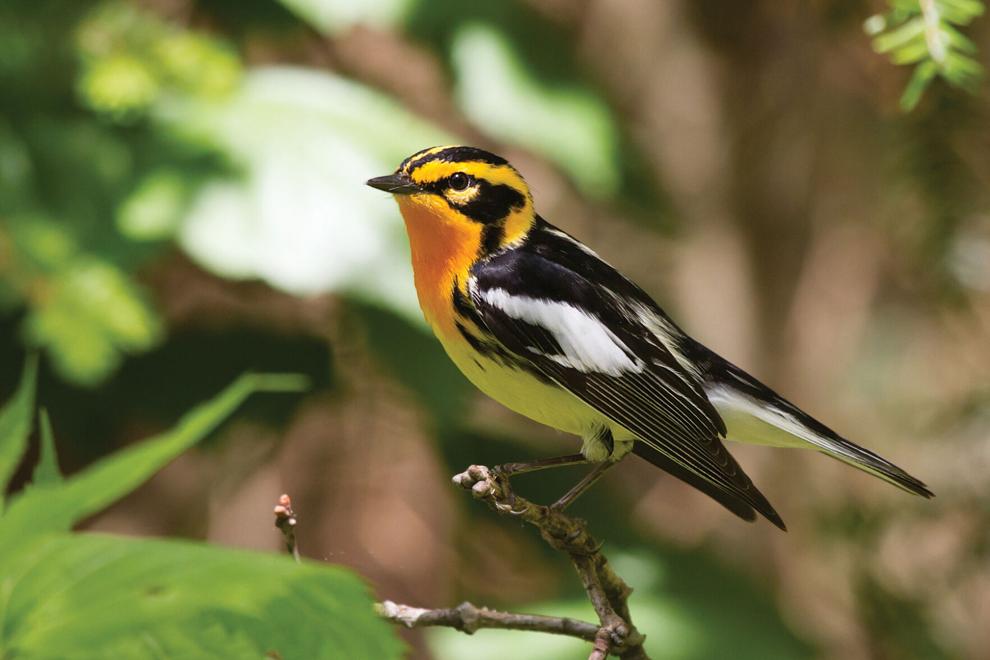 Some years ago, I spent an hour with E. O. Wilson, the Harvard myrmecologist, biologist, and author whose conservation contributions have earned him accolades such as "the Darwin of the twenty-first century." At our meeting, Wilson expressed deep concerns about how to address the current loss of so many of the world's species, which are currently declining at the rate of about 10,000 each year. In addition to issues related to climate change, he spoke at some length about how the habitats animals rely on continue to be fragmented by manmade barriers that include not only single-crop farms, but also housing, roads, and fences. "We need wildlife corridors, connected regions through which species can roam and interact," Wilson says.
I recalled that meeting when I received a call from Jajean Rose-Burney, deputy executive director of the Western New York Land Conservancy (WNYLC), inviting me to join him on a visit to the Allegany Wildlands, the first of a series of properties WNYLC plans to form into just such a corridor, an entire connected system that would be named the Western New York Wildway. 
Earlier this year, I met Rose-Burney and Eric Danielsen, the WNYLC senior naturalist at the edge of the 200-acre property within a few hundred yards of the Allegany Reservoir and, beyond it, Allegany State Park. We walked up a steep gradient for about a quarter mile into the forest. This brief outing was a special pleasure for me. In Buffalo, I had just experienced the lowest-count regional warbler migration of my lifetime but here, warblers were in full song. Blue-winged, chestnut-sided and yellow warblers, and a yellowthroat sang near the roadway; further into the forest were hooded, black-throated, green, and blackburnian warblers, and an ovenbird. Lovely wood and hermit thrush songs added to the pleasant atmosphere. My guides also pointed out a remarkable fifty-foot tall American chestnut tree, surviving here in isolation.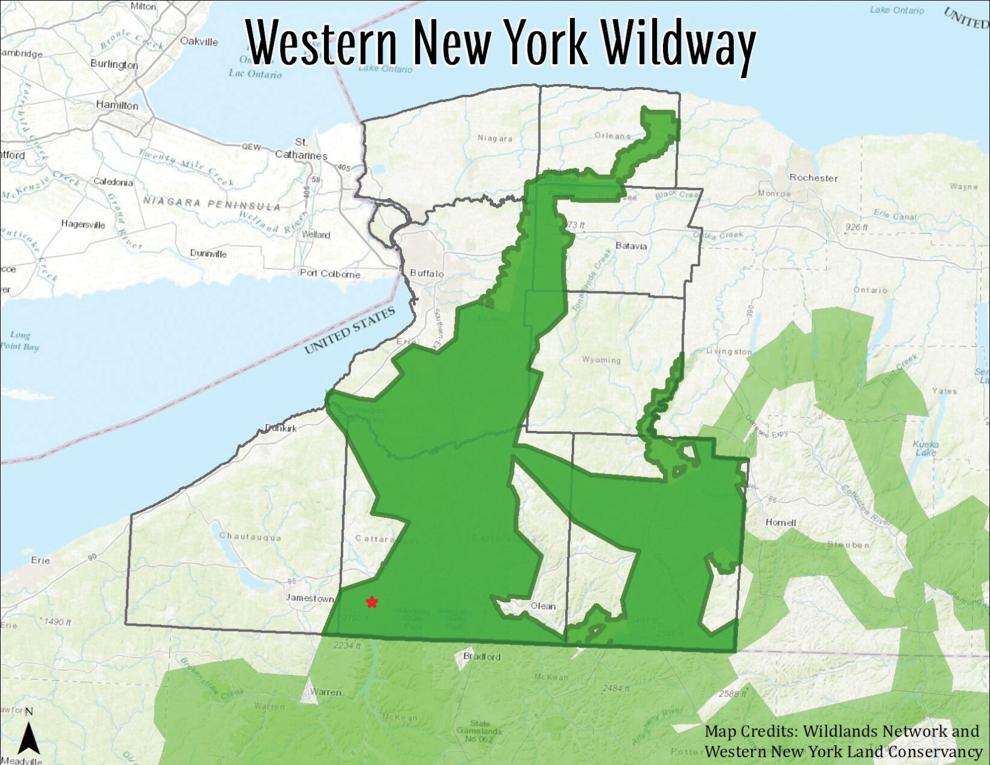 This Allegany Wildlands is well worth saving, quite aside from the larger Wildway project. It is home to spectacular diversity of plants and animals. During the last ice age, the miles-deep glaciers that covered the rest of Western New York didn't quite reach this forest, keeping intact an ancient plant community. In the early 1800s, it was purchased by the Sluga family from the Holland Land Company. Generations of their family have been its stewards ever since. When they first purchased the land, American Chestnut trees that had dominated eastern forests for forty million years made up the primary cover. By the early 1900s, however, the chestnut blight had killed off nearly every American Chestnut in North America, including almost all of those at this forest. Amazingly, that one tall Chestnut still survives, along with a few others that are at least forty feet tall. Large oaks, a threatened fern, and even rare orchids also grow here. Underneath the forest canopy, black bear and bobcat roam the ridges and ravines. 
The larger Wildway project will be a connected corridor of protected lands that stretches from the vast forests of northern Pennsylvania to the Great Lakes through to the Finger Lakes, the Adirondacks, and beyond. It will form part of the Eastern Wildway, which runs all the way from Canada to the Gulf of Mexico. The Wildway will allow plants and animals to migrate across the land as they once did, allow those that have disappeared from our region to return home, and allow those in need to move to new homes as climate changes. The Allegany Wildlands is already connected to 7,000 acres of protected state land, between Allegany State Park and South Valley State Forest, and it is a significant link in a future Western New York Wildway.
Even before the Wildlands project is established, we have an example of the kind of repopulation it will support. The wild turkey, a common New York State species in colonial times, was extirpated from the state by 1850 when forested lands were lost to farming. But in about 1948, wild turkeys from a small remnant population in northern Pennsylvania crossed the border into Western New York to reestablish the species here. Now these big beautiful birds are found throughout this region, even in suburban and urban areas.
When we hear about loss of 10,000 species a year, the numbers seem impossible to imagine. This is because our thinking focuses on large, obvious species like fox, deer, wildflowers, and trees. Although some of those are indeed threatened, the real species loss is invisible to us for two reasons: most are underground and most are so small, they are only studied under microscopes. Nevertheless, such species form the basis for life on this planet. They support larger trees and animals, including humans.
Extinction is not simply individual animals dying. Whole populations die out due to species-specific genetic diseases. These often develop through inbreeding that occurs when species populations are isolated. Even thoughisolated populations have led in the past to the evolution of new species, today they far more often terminate evolutionary lines. 
This Wildway is a monumental project. For information about how you can offer support, go to wnylc.org/donate, call 687-1225, or email info@wnylc.org.