In 2013, The Guardian newspaper in England listed the ten best urban parks in the world. Along with the Beijing Summer Palace, the Boboli Gardens in Florence, and Buttes-Chaumont in Paris, the list included Buffalo Olmsted Parks. Columnist Rowan Moore said of our parks: "Frederick Law Olmsted and Calvert Vaux are best known as the creators of Central Park in New York City, but their greatest work is the coordinated system of parks and parkways, the first of its kind in the United States, in what was then the boom town of Buffalo." 
This is a remarkable testament not only to the two architects but to the Buffalo leaders—William Dorsheimer, Sherman Jewett, Pascal Pratt, Joseph Warren, Richard Flach, and Mayor William Rogers—who retained them to achieve this miracle.
Olmsted was one of those nineteenth century entrepreneurs whose lack of formal education did not bar him from an extraordinary career. Over his rich lifetime, he was a farmer, merchant seaman, newspaper correspondent, author, gold miner, and, briefly, executive secretary of the organization that became the American Red Cross.
In 1857, through his connections as a New York City newspaper reporter, he was appointed superintendent of the city's then ill-defined Central Park. He wisely accepted an offer by English-trained architect Vaux to join him to enter a competition for the design of the park.
When Olmsted and Vaux started to plan Buffalo in 1868, their vision was not translated into the park system quickly. The project extended for forty-five years, with the final result creating, in Olmsted's own words, "the best planned city as to its streets, public places, and grounds in the United States, if not the world."
With this history in mind, I set out a few years ago to visit all of Olmsted's parks. I started early one summer morning thinking that I would easily visit them all in one day. I finished my tour in three full days. Few of us realize the full extent of this park system. 
There are six parks. The earliest plan called for three major parks: the Park (now Delaware Park), the Front (now Front Park), and the Parade (now Martin Luther King Jr. Park). Cazenovia Park, Riverside Park, and South Park were added later.
There are nine parkways: Humboldt Parkway, Bidwell Parkway, Chapin Parkway, Richmond Avenue, Porter Avenue, Red Jacket Parkway, McKinley Parkway, Humboldt Parkway, and Fillmore Avenue.
And there were originally nine circles/small green spaces: Soldiers Place, Gates Circle, Colonial Circle, Ferry Circle, Symphony Circle, McKinley Circle, McClellan Circle, Agassiz Circle, and the Bank.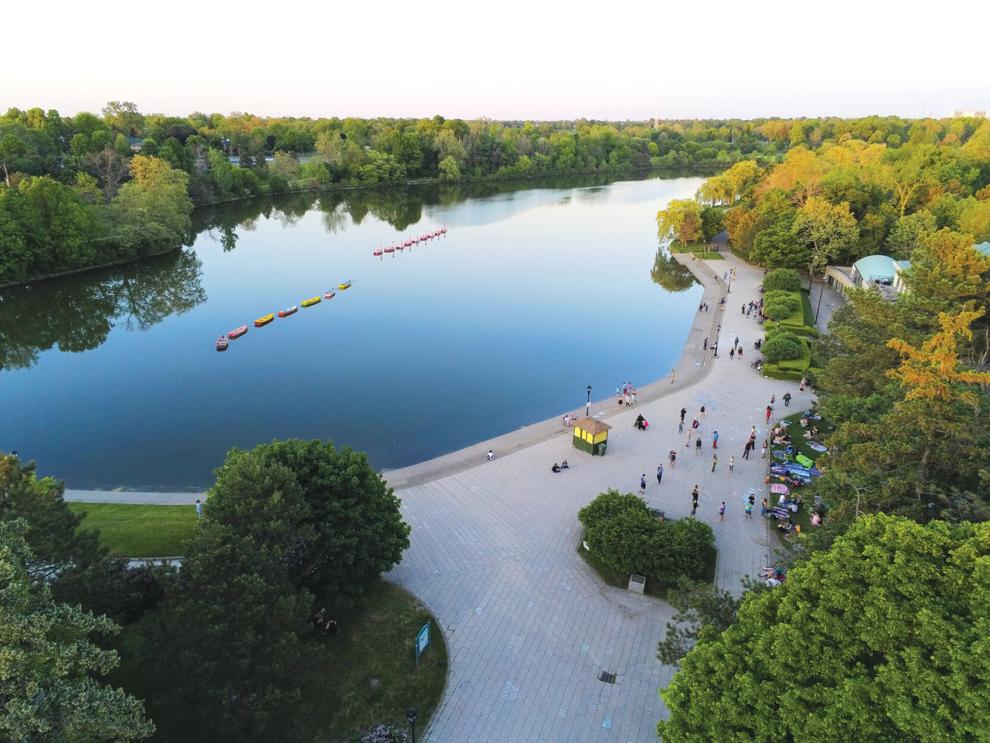 My tour showed me firsthand what Olmsted's vision accomplished. On my left, as I drove my scooter down Nottingham Terrace, I could observe the vast tree-encircled lawns of Delaware Park. Equally impressive to me, on my right were some of Buffalo's most beautiful homes. As I was to notice throughout my tour, the effects of the Olmsted Park system would extend well beyond its boundaries. These attractive parklands and parkways engender neighborhoods that are almost certainly the city's strongest tax base. In fact, when I strayed off course several times, for I am one of the world's worst map followers, I found that these neighborhoods extended for many blocks beyond the Olmsted lands.
I continued west along Nottingham past Delaware and along the northern border of the western section of Delaware Park. From there, I crossed the bridge over the Scajaquada Expressway and immediately turned back into the southwestern part of Delaware Park. Despite its isolation by the highway, this area of the park is attractive, graced by both the Albright-Knox Art Gallery and Hoyt Lake.
The Albright-Knox has a small fountain pool behind it. Noticing such things is one of the benefits of walking, biking, or, in my case, scootering; it had never come to my attention before, although I had driven this road many times by car. I took the opportunity to park and walk along the shore of the lovely lake, its sole visitor at 7 a.m.
From Delaware Park, I followed Lincoln Parkway south to the first of the seven perfectly tended circles I would visit. I was impressed by the work of the teams of volunteer gardeners who care for each of them. 
Located where Lincoln, Bidwell, and Chapin Parkways meet is Soldiers Circle, the most central of them all. Dismounted and walking around it, I could look down those remarkable divided avenues, each guarded by stately trees. Nearby is Larry Griffis's sculpture, Birds Excited into Flight.
At Colonial Circle is the equestrian statue of General Daniel Davidson Bidwell, who was killed in Virginia just six months before the Civil War ended. Many of the other circles have less imposing but very attractive candelabra-shaped light standards at their centers.
I continued down Richmond Avenue, no longer a divided parkway, to Symphony Circle, which I found the most impressive of all of them. Here are the graceful memorials to Chopin and Verdi.
On Porter Avenue, I rode past Columbus Park to Front Park, now reduced by the Niagara Thruway section. I still found it a peaceful area and was suitably impressed with its statue to our War of 1812 naval hero, Oliver Hazard Perry.
Before I made my way to South Buffalo, I visited the two other downtown Olmsted parks: Riverside and Martin Luther King, Jr. Although, like Front Park, Riverside is cut off from the Niagara River by the expressway, it remains a peaceful and attractive enclave. When it was opened in 1898, its setting was almost rural. A footbridge crossed the Erie Canal to a dock where steamboats delivered park visitors from up and down the river.
There are two strikingly different monuments in this park, a large lighthouse-like monolith dedicated to Billy Ehrmann and a small bust of Sandor Petofi. Billy was the younger brother of pro footballer Joe Ehrmann from Riverside who died of leukemia. Petofi's statue calls him the "Poet of Hungary" who "lived, fought and died for liberty."
At  Martin Luther King, Jr. Park, the original reflecting pool has been replaced by a seasonal splash pad and restoration of its Lord and Burnham greeenhouse is underway.  Its casino is also getting some attention; these are welcome repairs after years of deferred maintenance.
I made two trips to South Buffalo, only the first by scooter. Marge Ryan, another wonderful volunteer who cares deeply for her city, escorted me on my second. I was overwhelmed by the education Ryan provided, not just about Olmsted's contibutions—the Heacock Place, South and Cazenovia Parks, the McClellan and McKinley traffic circles and the McKinley and Red Jacket Parkways, but also about the many other small parks that grace this area. 
One of those smaller parks, Seneca Indian Park, hidden in a residential section at the corner of Buffum and Frank Streets, was the original burying ground of both Red Jacket and Mary Jemison. Although Red Jacket's grave has been moved to Forest Lawn and Mary Jemison's to Letchworth Park, this two-acre area retains the respectful solemnity due to these earlier residents of this region.
The Botanical Gardens in South Park have never looked better than they did on my visit there. The plantings around the building were in full bloom with those rich late summer oranges and yellows brightening the old white edifice. 
Cazenovia Park deserves more than this final paragraph. It is another beautiful and well-maintained park with a near-perfect mix of public and natural areas. Where we entered is an appropriately well-tended memorial to five firefighters killed in 1983: Michael Austin, Michael Catazaro, Matthew Colpoys, James Lickfield, and Anthony Waczkielewicz. By the ball fields is a monument to Frank Callahan "who spent a lifetime helping boys in baseball" and there is a lovely little moonlight garden dedicated to the heroes of 9-11.
I highly recommend a tour of these wonderful parks.