On a lovely late summer morning, I spent a pleasant hour walking the trails of the College Lodge Forest in Chautauqua County, a few miles south of Fredonia. With me, to point out the special biological and geographical features of this natural area, was Kyle Semmel, communications manager of the Western New York Land Conservancy, which has until December 31 to raise $790,000 to purchase the property from the Fredonia College Faculty Student Association (FSA). The good news is that the Conservancy is close. It currently has a $200,000 challenge gift, which, when matched will meet their goal. I will return to this consideration later.
If you enjoy a good hike, the trails provide an opportunity to get outdoors in a spectacular natural setting. I found the hike to be challenging. The trails are open and well-kept, but their average inclination seems to range well over fifty percent. The forest has miles of these walking, snowshoe, and cross-country ski trails, which are named after Muir, Leopold, and Darwin as a testament to the land's natural significance. By the time we finished our walk, my legs informed me that they were happy to have only sampled about a mile of them.
The site includes the height of land between the Great Lakes Drainage, which flows out through Lake Ontario and the St. Lawrence River to the Atlantic, and the Mississippi Drainage, which flows through tributaries of that great river to the Gulf of Mexico. At this point, the ridge is within a half dozen miles of Lake Erie, continuing east farther inland along the southern New York State line. I once visited the triple point where this ridge meets the sources flowing by way of the Allegany and Susquehanna Rivers into the Atlantic Ocean. It's located just south of the New York/Pennsylvania border, where upland springs feed the Genesee River.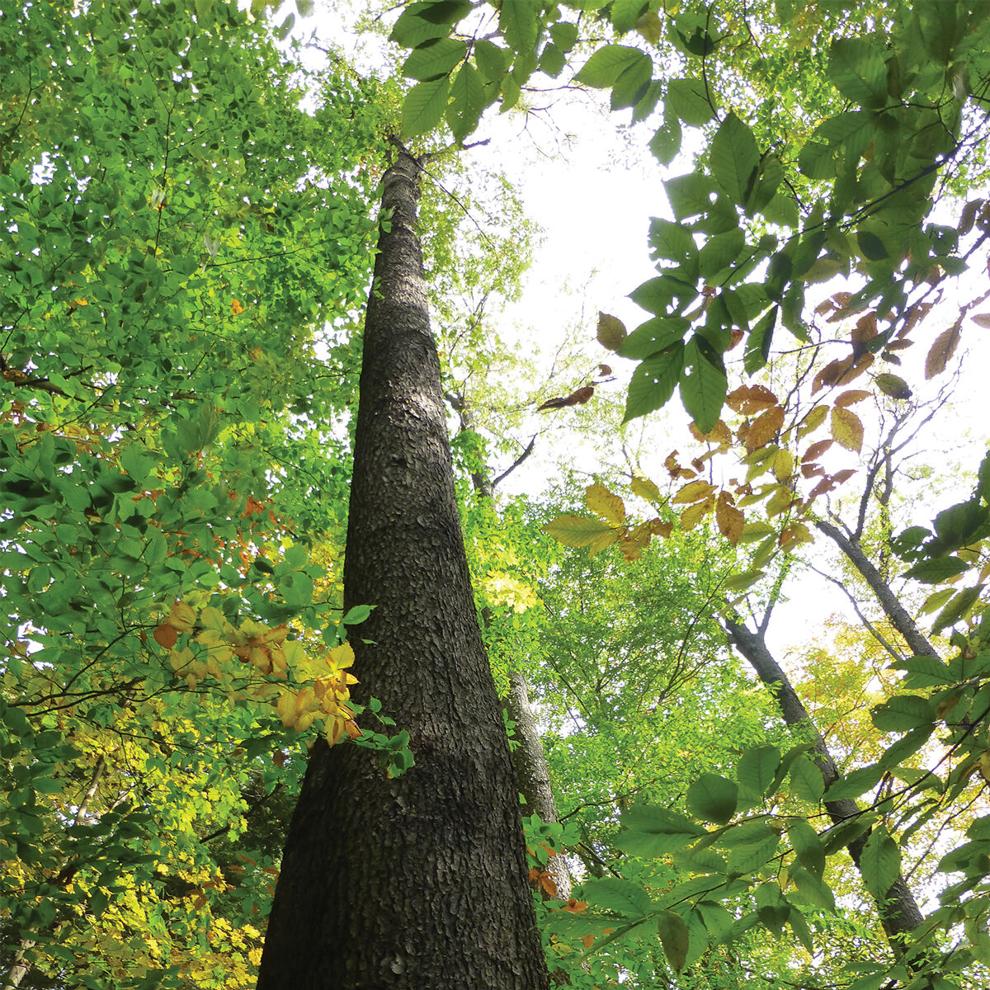 The forest's highland character gives it a special role: its meandering streams and wetlands absorb and filter rainwater to both north and south, keeping our drinking water pure and preventing downstream flooding. 
The College Lodge Forest is also part of a major flyway for migratory birds, earning it recognition as an ornithological hotspot in spring and fall. It also boasts a remarkable diversity of reptiles, amphibians, fish, mammals, and countless other species that have few such sanctuaries left in our region. These include beautiful orchids, carnivorous insect-eating plants, and even bryozoans—sometimes referred to as freshwater coral—that live in the wetland. Despite the late season, my guides were able to point out a variety of these botanic species, among them two of the forest's seven orchids: the round-leafed orchid and a pink lady's slipper. 
The real story here is the trees. The heart of the forest is anchored by a large grove of towering old-growth trees, some of which have lived here for hundreds of years. Among them, we came upon my favorites: giant cherry trees, their boles so thick that it would take three or four people with arms stretched to reach around them. These flagpole-straight, potato-chip-barked columns keep the trees' foliage so high that we had to crane our necks to see it. Deep crimson cherries, their tiny size starkly contrasting their source, dotted the trails and I couldn't resist tasting one. Once my taste buds got by the dirt it had accumulated, they reported it to be unexpectedly sweet. 
The recent history of this land is interesting. In 1939, late in the Great Depression, far-sighted Fredonia College students learned that the land was for sale and purchased it as a locale to gather off-campus and experience nature. They built the lodge on the property in 1941, and formally turned their control over to the FSA, which has managed the property ever since. As a result of this foresight, the forest has served as a prized learning laboratory for thousands of teachers, researchers, and students. It has also been accessed as a community gathering place. Some years ago, I spent a day at the lodge with a group of middle school science students from the Kenmore Schools.
With the ever-increasing cost of maintaining the property, FSA administrators were forced to consider fundraising plans. One option was to log the forest, including the old-growth trees. Fortunately, the FSA chose another, selling a large portion of the property, 168 acres (over a quarter square mile), to the Land Conservancy. This serves to protect the forest, while still allowing FSA to own and operate the lodge and the thirty-three acres around it.
The Western New York Land Conservancy has already obtained significant local support: $100,000 from the Lenna Foundation, $50,000 from the Gallogly Family Foundation, and $50,000 from Conservancy board member Kathryn Lasher and her partner, Scott Bieler, president of West Herr Automotive Group. 
Now, with a December 31 deadline, the Conservancy seeks to meet the final $200,000 challenge with individual donations. When it reaches this goal, it will preserve this forest and keep it open as a publicly accessible nature preserve. If you would like to donate to save this College Lodge Forest, you can do so on line at wnylc.org or by sending a check to Western New York Land Conservancy at PO Box 471, East Aurora, NY 14052. You can also obtain further information by emailing info@wnylc.org or calling 687-1225.