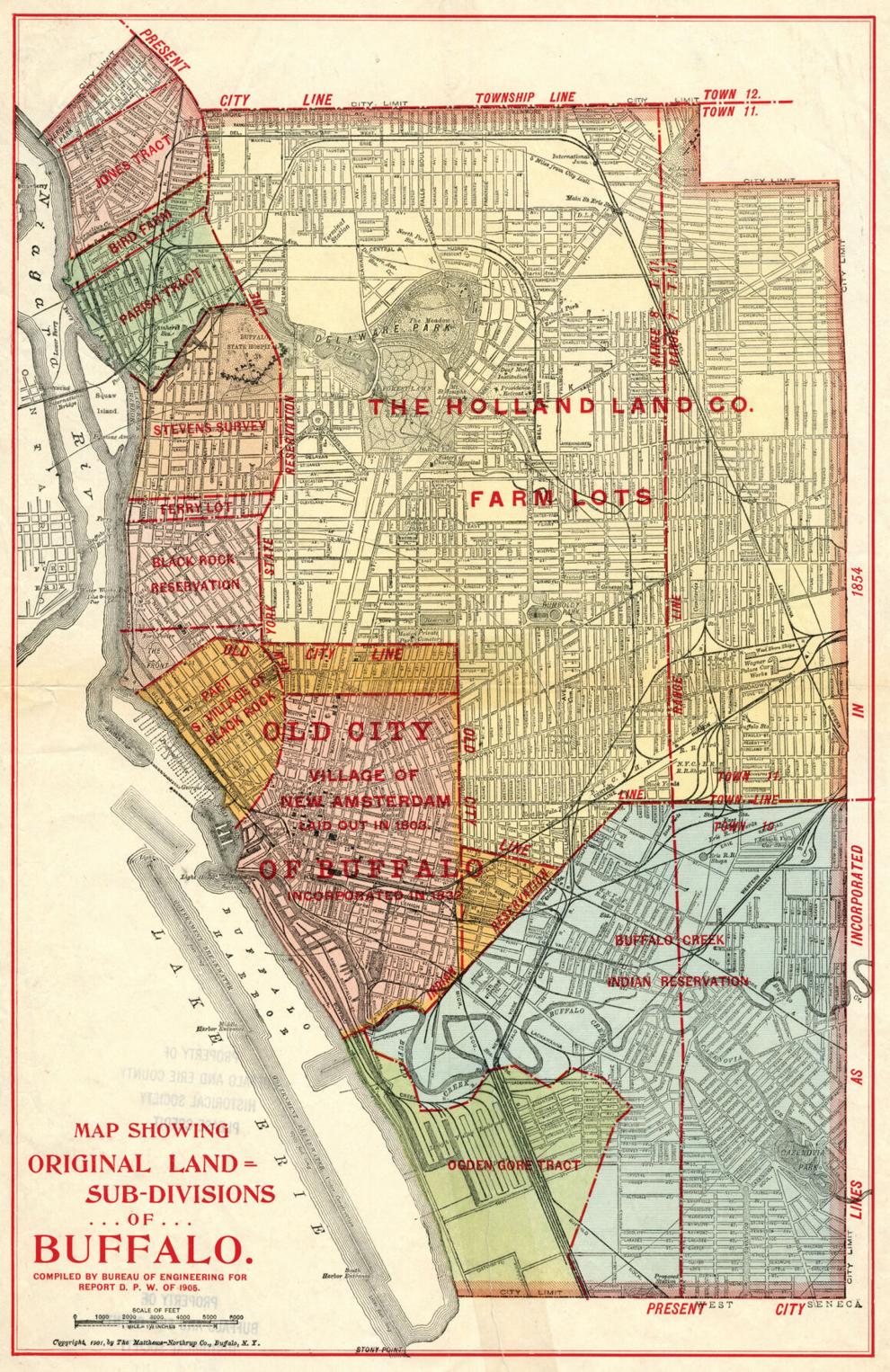 At the end of my street is Ellicott Creek. In downtown Buffalo, we have Ellicott Square, with an associated building bearing the same name. In the Southern Tier, we have the town of Ellicott and the village of Ellicottville. Does anyone deserve all that recognition?
My answer: absolutely. If anything, we have honored Joseph Ellicott too little. I offer historical background in support of that conclusion, based largely on a 2002 account by Patrick Weissend, a former director of the Holland Land Office Museum in Batavia.
Ellicott was born in 1760, retired in 1821, and died in 1826 after being incapacitated by dementia. His adult life was essentially bound by the end of the Revolutionary War in 1783 and the completion of the Erie Canal in 1824.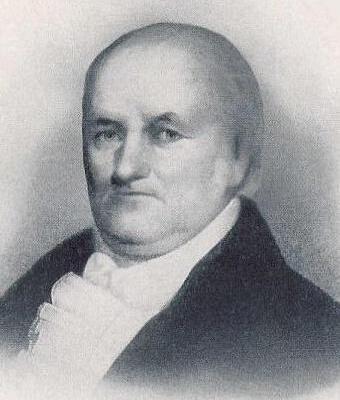 Ellicott belonged to a family of surveyors. Older brother Andrew had worked on the extension west of the incomplete Mason-Dixon line between Pennsylvania, Maryland, and Virginia. Joseph left a teaching position in Maryland to join his brother to complete the survey of Pennsylvania's western boundary in 1785. In 1789, the brothers were hired to locate the western boundary of New York State. Because this line was determined by the longitude of the west end of Lake Ontario, they had to travel to Canada to determine that exact location. On the way, they stopped at Niagara Falls to make the first accurate measurement of its height, and were regarded with suspicion by Canadians as they traveled through Lower Canada to the Hamilton area.
Through the years that followed, Ellicott joined surveying teams in Georgia (where he nearly died from yellow fever), the brand-new District of Columbia, and Pennsylvania.
Having established his reputation, he was hired in mid-1797 by the Holland Land Company as Chief Surveyor for its lands in Western New York. His first job was attending negotiations with the Seneca Indians that led to the infamous Big Tree Treaty. That agreement ceded three-point-three million acres (over 5,000 square miles) of land to the United States, which was immediately transferred to the Holland Land Company. Leaving the meeting, Ellicott found himself responsible not only for surveying that land but also for laying out the 200,000 acres (312 square miles) of Indian reservations.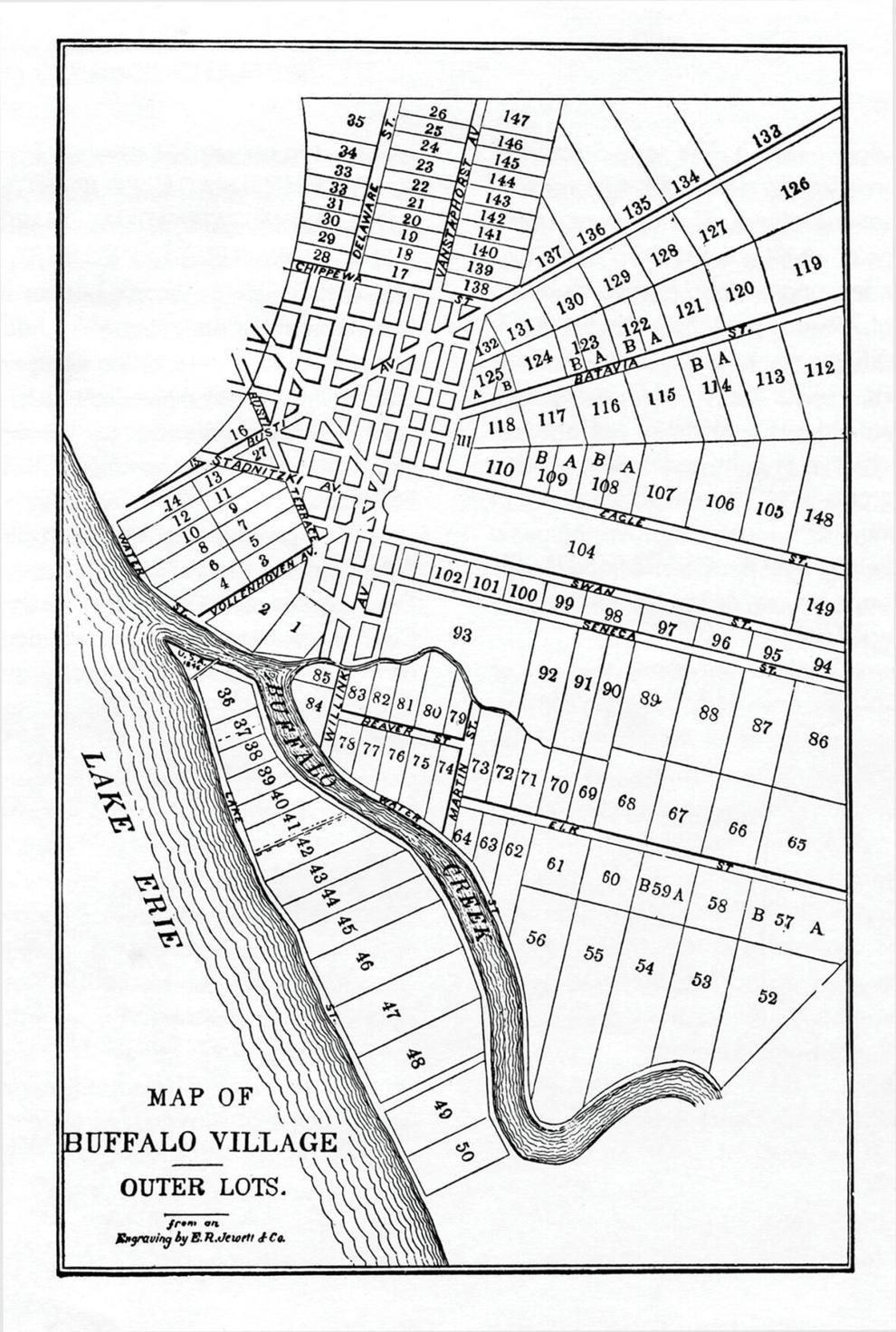 As soon as the treaty was signed in September, he set out to complete a preliminary survey. He hiked the entire boundary of the property, the last 200 miles through the snow, before retreating to Philadelphia to prepare for the full survey. His report of that long trek through uncharted territory makes interesting and, occasionally, even exciting reading.
In March of 1798, he returned with a veritable army of 150 men to begin the formal survey. A stickler for accuracy, Ellicott insisted that measurements be made with consistent units, in the process fixing the length of one foot. He also had his brother Benjamin build a portable transit to take exacting astronomical measures. This may not seem unusual now, but the resulting survey was remarkable for its time. In other parts of the United States, surveyors merely laid out property along compass lines and the resulting boundaries have led to complex legal entanglements. 
Stone markers were erected along reservation and township boundaries; many still stand. I have visited a number of them, including most along our state's boundary with Pennsylvania. Some were difficult to find, the stone blocks often overgrown with leaves, brush, and even tree roots.
Despite setbacks, Ellicott completed what came to be called the Great Survey in October 1800. The cost: $70,921. He was then hired to begin his twenty-year career developing and selling the surveyed lands. By the end of the year, he had moved to the Buffalo area, at that time not yet named. His first land office was in the Asa Ransom tavern in Clarence, but, in 1802, it was moved permanently to Batavia. The building there at 131 Main Street now houses the Holland Land Office Museum, which is well worth a visit. 
Joseph Ellicott has been described as short-tempered and tactless; indeed, he did not suffer fools gladly. He was, however, a generous agent, supporting poor landless families with liberal credit, offering free land to support inns along new roads, and donating money and land for churches and schools. In his final active years, he was also a strong supporter of the Erie Canal, convincing his company to contribute over 157 square miles to the project.
No one has contributed more to the map of where we live.