There is something magically captivating about stained glass illuminated by the sun, jewel-like panes casting a wash of color across a wall. Or a frame full of crystalline leaded glass, its prisms throwing dappled rainbow dots over the floor. From tiny pairs of simple, sparkling windows flanking fireplaces in standard North Buffalo doubles to the lavish stairway landing masterpieces inside Delaware Avenue's Mansion Row, beautifully crafted windows are a mainstay of many older Queen City homes. 
"Buffalo is one of the best living museums of stained glass in the country," explains Megan McElfresh, executive director of the Stained Glass Association of America (SGAA), which is headquartered on the city's East Side. "Buffalo was able to attract the work of every major glass studio at the birth of stained glass in the US, like Tiffany and others. We had money at the right time. There are few cities that have as many spectacular, show-stopping windows, not just ecclesiastic, but residential, too. There is so much to catalog, take pictures of, and talk about here."
That's why the 117-year-old SGAA relocated its headquarters from Missouri to Buffalo in 2018 when McElfresh, a local stained glass artist, took over as executive director. Since 1906, the nonprofit national trade association has published the Stained Glass Quarterly, a magazine considered the most complete written and pictorial archive of American stained glass in existence. Not only does SGAA continue to document developments, trends, and trade secrets of the stained glass world, its programs also connect glass afficionados, professionals, and resources here and around the country. 
Caretakers of elaborate churches, grand mansions, and ornate municipal buildings in Buffalo and around the country turn to SGAA to find qualified craftspeople to restore and preserve priceless stained glass windows, skylights, and decorative elements. SGAA is the only accrediting body in the US for stained glass professionals, who must go through rigorous peer-reviewed process to certify for work on the nation's treasured stained glass.
With so much glasswork centered in Western New York, it's no surprise that the area is home to the industries that support it. Sunshine Glassworks, one of the country's largest suppliers of materials, with over 1,400 colors of glass in stock, is located in Cheektowaga. Techniglass, inventors and makers of some of the most cutting-edge art glass tools in the industry, has its headquarters in North Tonawanda. Western New York also boasts a notable concentration of glass artisans who create, maintain, and restore the area's vast collection of windows. 
"Stained glass is not something you go to college for; it's all apprenticeship and shadowing and sharing information between people," explains McElfresh. "Buffalo is a glass hive of sorts. There's a strong community for makers here. Everyone does something a little different, so we try to create opportunities to connect craftspeople and studios so everyone can meet each other and share work and support." 
Many local glass studios are into their third and fourth generation of artisans, each one having learned the intricacies of the craft from those who came before. Glen Albig, owner of Images in Glass in Hamburg, works alongside his son and grandson, both of whom he trained to revive windows in local homes. Albig himself says the work is a constant study. He relies on the Stained Glass Quarterly to see step-by-step explanations of how other artisans are approaching a job, and he relies on the clues found within century-old windows themselves.  
"When a window reaches the hundred-year mark, the lead that holds the window together has weakened," Albig explains. "The waterproofing has begun to flake and fade away. If it's large, there's tremendous weight pressing down that causes sagging or bowing. As we get older, we start to sag a little ourselves! What we've learned through working on older windows is why they fail. There are several technical reasons. So as we're repairing that window or making a new one, we can incorporate the corrections that we've found that caused the failure in the first place."
Working in stained glass isn't just about saving old windows; artisans are creating plenty of new works, too. Albig often takes pictures of landscapes while traveling and recreates the images in stained glass, which can be installed as a permanent window or framed to be hung in front of a traditional window. Mark Hussein at Buffalo Glass Works gets commissions for stained glass inserts in cabinet doors, light fixtures, or privacy windows on stair landings and bathrooms in houses where neighbors are close enough to peer in.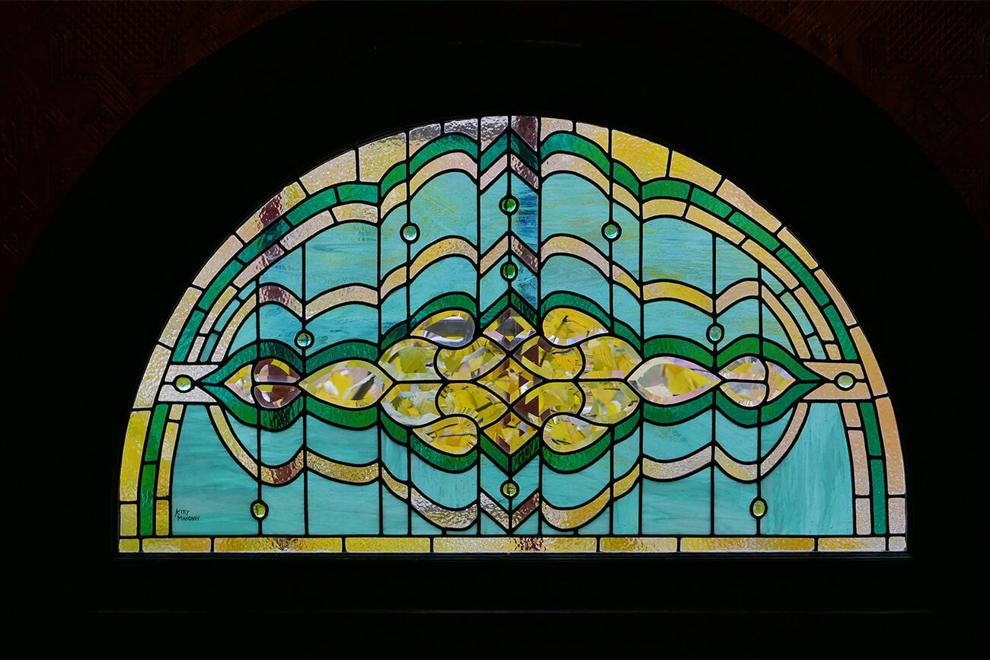 Kitty Mahoney, owner of Revival Glassworks, also restores old windows and is currently working on the largest new custom window she's ever created. At twenty-six, she is one of the youngest stained glass artisans in the region, and credits the collaborative spirit of other area artisans for the success she's found in the craft. 
"In stained glass, you can't feign experience," explains Mahoney. "You have to stop and ask when you don't know. That's where the community comes in. I'll call Fran Matuszak at Jacobs Stained Glass when I need help or have a question. He's been at it for decades. Or Sunshine Glassworks. Or Megan at the SGAA. Things can't simply be Googled. Old texts will say things like 'visit your local chemist.' We don't have local chemists anymore, so we have to ask someone else."
Sharing knowledge extends beyond the community of glass artisans and into local neighborhoods, where homeowners are eager to learn about the old windows in their houses.  
"We partner with the The Buffalo History Museum, Explore Buffalo, and Preservation Buffalo Niagara on stewardship activities for the public," McElfresh says of the Stained Glass Association. "We all lend our knowledge to help homeowners establish their windows' provenance, understand what we're looking at, how to care for it, and how to be great keepers of this glass. Stained glass windows are most valuable in the space for which they were built, not removed and sold. Whatever we can do to keep windows in their homes is a good thing to do, and we don't always know how lucky we are to have all the resources right here to do it."
To find stained glass resources and subscribe to the Stained Glass Quarterly, visit stainedglass.org.