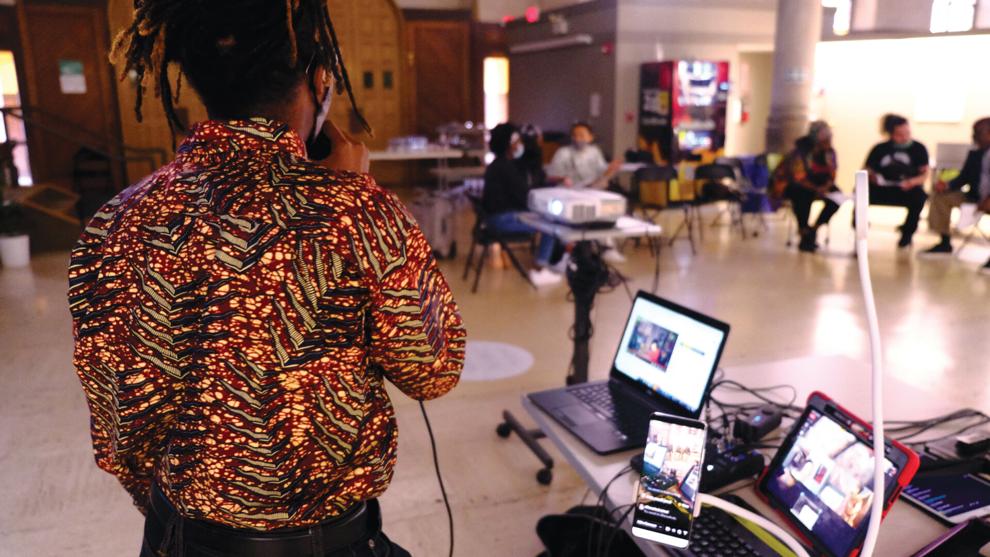 There Are Black people in the future. I read this sentence and ask Anthony Pierce, newly appointed Program Director for Wakanda Alliance Program, a series of workshops that focus on comic book literacy, "What does it mean to you?"
"We have a saying, 'we are our ancestors' wildest dreams,'" answers Pierce, who talks about the future of Blackness in comics, and how he and others from the Wakanda Alliance explore it. "Somebody who was in the thick of slavery, somebody who was in the thick of destruction, to think that their wildest dream is us being free? That's where we are now. We are an extension of that dream. To think that our dream in the present is going to be much greater than we realize; that is what the heart of 'There are Black people in the future' means. We've always been here, we're always going to be here."
The Wakanda Alliance, which operates within the Galactic Tribe, a nonprofit collective of individuals who explore Blackness in comics, hosts workshops for youth ages eight to sixteen. Pierce explains that although the target audience is youth, the group has evolved to become intergenerational as parents become involved. 
Conversations revolve around the African Diaspora and civilizations that have been misrepresented. These discussions change perspectives and reshape how members of these groups view themselves and the world. The workshops also allow adult caretakers to see the interworking of the creative process within their children.
"They don't get to sit next to their kids in school or art classes," says Pierce. "Usually, they see a finished product, but they don't see the steps taken for that young person's creativity to come out. That is valuable; that's where they find value in the Wakanda Alliance Program."
Workshops often start with an icebreaker question or check-in. Music plays as folks greet each other and converse before they dive into the topic of the day. Youth and adults take turns reading comics and stop to analyze and discuss what is happening on the pages. "It's a way to get an inner view of the character's mind or mission," Pierce says. With more diversity and accurate representation, Black youth can see aspects of themselves in these characters. 
"Black Panther wasn't on the sidelines or in the background," notes Pierce. "If the Avengers didn't have him on the team or their mission, they would have failed. He's a genius, he's a Black king, and if it wasn't for him, we wouldn't have a lot of conversations going on about the interconnectivity between Black people and African people. There is something special about making superheroes in fictional stories reach places that nonfictional stories can't."
The workshops go beyond reading to focus on the intersectionality of comics and economic, environmental, and social justice. They talk about the value of using resources—like vibranium, a rare metal and valuable resource in the Marvel Universe—without damaging the environment. "When it come to their vibranium, they don't extract it the same way people extract oil, or extract gold or diamonds, wood, even water," Pierce explains. "All these things are protected in Wakanda and are regulated so there isn't damage to the environment."
Youth attending Wakanda Alliance workshops have a welcoming space to explore ideas and passions in a judgment-free zone where they will be inspired, receive feedback, and experience growth. It's a space to remind them of their capabilities, that there is not a set-in-stone path to the future, and they don't have to be forced down a funnel or narrow career path. Pierce inspires them to jump into their passions, surrounded by people who believe in them and want to see their ideas come to fruition. 
Through the exploration of comics, workshoppers explore how the shackles of white colonialism are being broken. "To think that we were only enslaved for a small period of human existence that we know of," says Pierce. "The thought of us getting back to that freedom… We can't be totally free because of the society we're in but knowing we're always creating and more in the spotlight than we ever have been before, and all the histories we're fighting to liberate and understand, really touches me. So many kids that want to take their imagination to the next level, can."  
Interested in attending a workshop? Visit thegalactictribe.org/wakandaalliance or find the group on Facebook.