It is an oddly peaceful scene, sort of like a scattered family reunion in a local park. Two distinct groups are ensconced along the perimeter of Niagara Square. There are tables loaded up with snacks and tubs filled with bottled water. Young people with masks tucked loosely around their necks sit in camp chairs, chatting, while a couple guys toss a football back and forth nearby. There is a serious discussion going on between one of the informal "leaders," Myles Carter, and some other activists. They are clearly talking strategy. It is Monday, June 15, twenty days after the May 25 murder of George Floyd during an arrest in Minneapolis. Large numbers of Buffalonians have been protesting almost daily.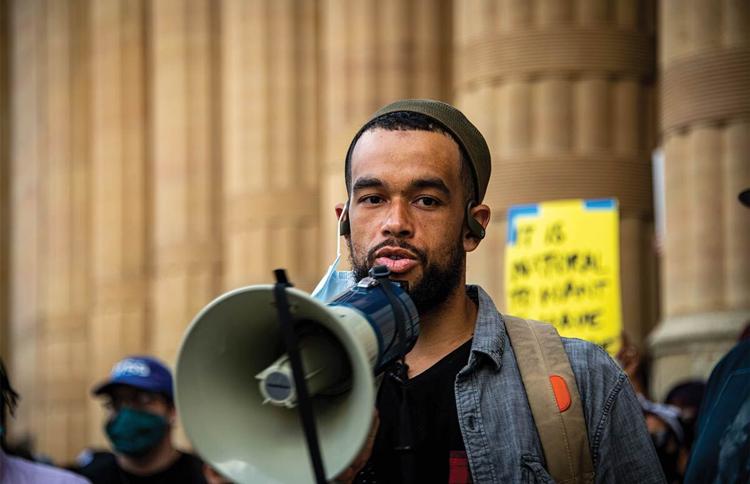 This is not an exhilarating march with chanting participants waving signs and banners. These activists are in it for the long haul, as they conduct a sort of vigil in the shadow of City Hall. While it's not clear that occupying the Square on a 24/7 basis will be possible, they have the supplies and the infrastructure—with favorable weather—to do it. Their goals are multiple, but the struggle against the mistreatment of black people by the police is the common thread.
An unnamed group holding the south side of the square looks to Carter for guidance although, just as in Occupy Wall Street, there is no formal leadership hierarchy.  A thirty-year-old home inspector and Medaille graduate, Carter is quiet, intense, and articulate. Under his guidance, along with other community leaders, a state-of-the-art playground was built in 2017 for Universal School and Jami Masjid Mosque on Buffalo's East Side (Genesee Street).
Though he currently lives in Tonawanda, Carter comes into Buffalo most days to work and participate in protests. "Activism is built into our generation; it's not something we separate ourselves from," he remarks. "We don't always have time to be physically available to protest, but social media allows us to make our voices heard online. So, I've been an activist my entire life. I recognize the underlying institutional chains of oppression that are in place, but I try to do proactive work, work on changing things.
"My whole mission is to bring light to the issues that exist here in Western New York so that we can fix our community first and that we can make Black Lives Matter more than another hashtag for a dead person. I think the premise of 'defund the police' is to take some of that money from the police department and transition it over into social programs and community building as opposed to policing the community. I would like people not to be disparaged and lost at the hands of the criminal justice system."
Carter was arrested while giving an interview to News 4 WIVB at a June 1 Bailey Avenue protest. "You feel violated," he says. "I can't go into details because there is a legal battle ahead. I do assert that I was wrongfully arrested and my civil rights were violated."