On a quiet February night five years ago, a bible study class gathered at First Presbyterian Church. Interim Pastor Reverend Phillip Gittings caught the eye of the church's business manager, Christina Banas. Gittings didn't look happy. He told Banas he'd just received a call from the Buffalo News. The religion reporter had received a tip that the church was exploring a merger with nearby Trinity Episcopal Church. That could involve the congregation leaving its century-old landmark building at Symphony Circle. The reporter was writing a story to that effect, to run the following day.
Recounting the phone call in a conversation shortly thereafter, Gittings said he'd tried to explain to the reporter that a "nesting" arrangement—one church sharing facilities with another church—was only one of several options First Presbyterian was exploring. He had been brought in several months before to help the church deal with a financial crisis, and they were examining all options. Gittings begged the reporter to hold off on the story, but the next morning, it was on the front page of the News, and it hit like a bombshell. People were hurt, people were angry, people misunderstood. Parishioners and others stopped by the church, hoping for a last look.
At the time, a team had been excitedly working for a year on bicentennial events for the church. In a 2011 Spree feature by Barry Muskat—which focused on the building's historic architecture—Banas had used expansive terms like welcoming, diverse, vibrant, and active to describe what the team was planning. But with the wind taken out of everyone's sails, plans were scaled back. "It set us back a year," Banas now says. For much of that year, a task force that had been created to look at options for the future would have to handle damage control in the present. Given the financial situation and the low morale, could the church go on? A bigger question: given its history, its signature building, and its key Allentown location, how could First Presbyterian have found itself in such a situation?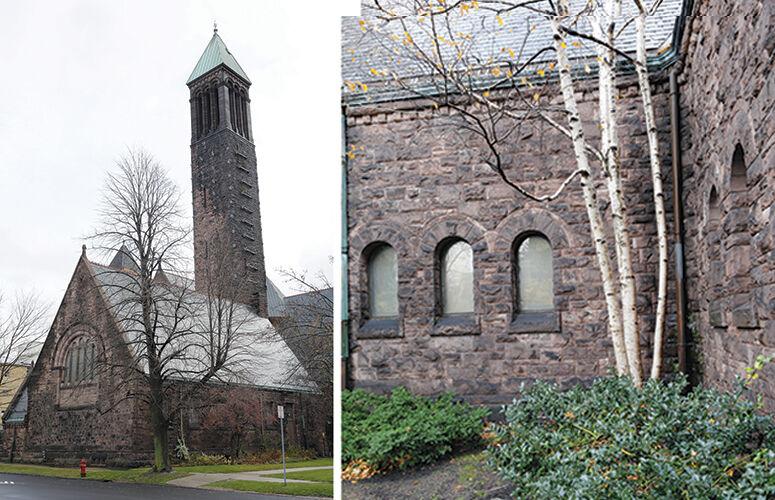 A proud history
First Presbyterian Church is Buffalo's oldest religious institution. Its history reads like the history of the city itself. It is either the mother or midwife of all Presbyterian churches in Buffalo. As the first place of worship in the small frontier settlement of Buffalo, the church started as interdenominational; it was formally organized on February 2, 1812, just ahead of a war that would raze the young settlement and send its inhabitants fleeing. First Presbyterian still holds dear the moisture-damaged "session" book containing the earliest records of the church, which was rescued from the burning of Buffalo.
The church survived the war and moved on to a prosperous future. Fortunes were made in Buffalo and lavished on the mother church. By 1827, its small frame building was replaced by a large structure at one of the old city's most prominent locations: Shelton Square. As Shelton Square evolved into a bustling commercial district, First Presbyterian moved uptown to the most prominent node of Olmsted's parkway system, at what is now Symphony Circle, providing a bookend to H. H. Richardson's towers on the other end of Richmond Avenue.
The nineteenth century congregation had missionary zeal for helping the less fortunate, especially immigrants and refugees. After the Panic of 1893, the church built an extensive settlement house, known as "Welcome House," in the rough-and-tumble neighborhood between downtown and what is now the Larkin District; it became a public relief center during the Depression. The group also founded a hospital in China.
Over the decades, First Presbyterian developed what business manager Banas describes as "a culture of a grand, historic church, too big to fail." Bequests from the earliest founders of Buffalo had been well managed over time, leading to a sense of "there's always money around," as she characterizes it. The financial cushion allowed the culture to continue for decades, even as industrial decline and mid-century suburbanization decimated the neighborhood, city, and congregational rolls.
The perfect storm
It took three body blows in one decade to put First Presbyterian into a financial danger zone. After the post-9/11 market crash, the first signs of strain began to show. "Before that, it didn't matter if the church ran a deficit, because interest income always covered it," says Banas, who was hired as business manager at this time.
Then the church's tower began to crumble, requiring significant, expensive intervention, costs for which the church was unprepared. "Things were never the same after that," Banas says. For nearly a decade, the tower would loom over First Presbyterian metaphorically as well as physically, as the building became the church's focus.
The 2008 recession dealt the church a roundhouse, hitting its endowment especially hard, and forcing big cuts in programs and personnel. Finally, in 2010, the church's senior pastor, the Reverend Geri Lyon, needed to retire.
The church knew it needed help and also knew about the Reverend Phillip Gittings' reputation as a church turnaround specialist. Although looking forward to retirement himself, Gittings agreed to come to Buffalo to help on an interim basis.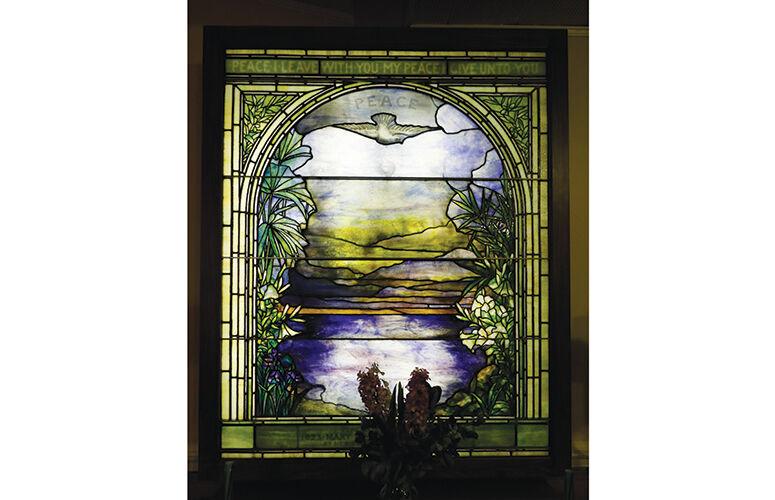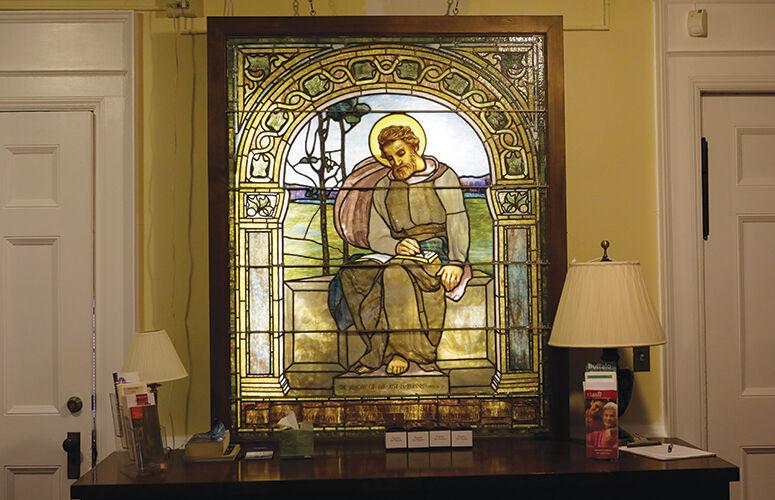 A transformational meeting
If the cloud of bad publicity cast over First Presbyterian had a silver lining, it was in attracting the attention of Houghton College's Chuck Massey, who had been looking for an urban location for a new associate's degree program. As Houghton's director of urban affairs, Massey frequently collaborated with his fellow Wesleyans at West Side (now 716) Ministries, which had rehabbed a number of vacant houses in the neighborhoods northwest of First Presbyterian. 716 Ministries also owned the former Our Lady of Loretto Church complex nearby, where it developed expertise in facilities management. The organization was now ready to try putting that expertise to work for others. Massey helped it cultivate a relationship with First Presbyterian, in which 716 Ministries would manage the church's space, and Houghton College would lease a good chunk of it.
This partnership expanded an avenue down which the church had already ventured when it gave up space to meet the temporary needs of the Elmwood Village Charter School. Although the church had handled that well, property rental wasn't its primary mission, and the partnership with 716 Ministries provided the support it needed. Based on its work with First Presbyterian, 716 Ministries has developed a "serve the servants" ministry and now works with fourteen churches and nonprofits across the city, according to executive director Jeff Jones.
Another partnership, One Symphony Circle, was formed with surrounding neighborhood residents to address issues with the tower and other restoration work.
By early 2013, the church was seeing rays of hope. With a new income stream from leased space, a partner to manage the space, and a partnership with the community to focus on restoration work, it appeared that First Presbyterian could remain in its building and return its focus to ministering to its community. Gittings laid the decision before the congregation at an annual meeting as follows:
"I keep thinking, what if! What if we can take our fabulous young adults and really take time to grow that ministry into something really top tier. The people certainly are top tier folk, but to grow and move this ministry, we need more concentrated effort, committing time and energy to helping these folks who are still beginning adulthood as they grow in faith. What if, instead of working so hard on real estate rentals in the last year, I could put lots more energy into working with families with young children as we focus on the ways these moms and dads can grow spiritually healthy children who become faithful adults? What if, instead of working so hard on raising funds for a building, we were working on making disciples of Jesus Christ, helping people find the new life that God's saving love brings? What if we could put more energy, time, and money into real mission and ministry in our neighborhood? What if …?"
After that meeting, the "session," or church board, discussed the future of the church with Gittings as moderator. He reminded them he had just six months left on his initial contract: "I want to be fired, with thanks," he told them.
The board's response is now known as "the motion." It outlined the path forward for the church: move away from deficit spending, partner with Houghton College and 716 Ministries on property management, and with One Symphony Circle on building restoration. It passed unanimously. First Presbyterian would remain First Presbyterian and continue to grace and embrace its community.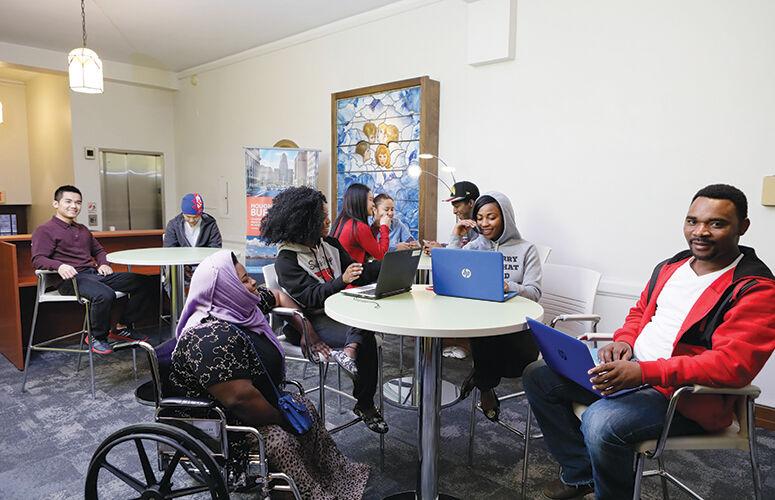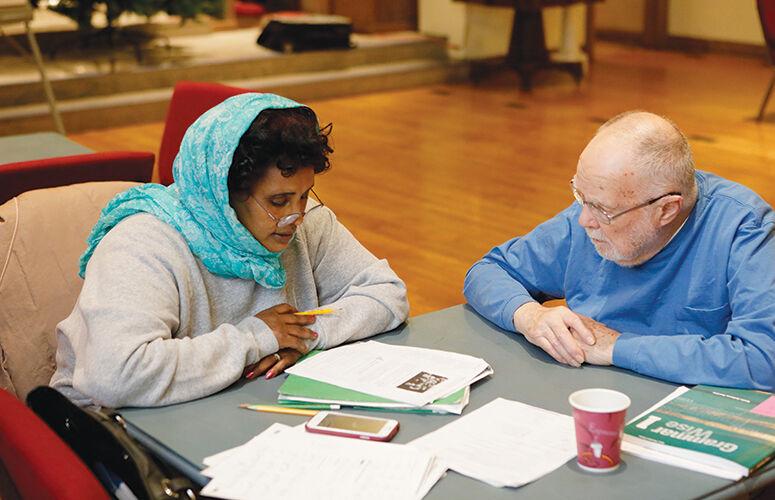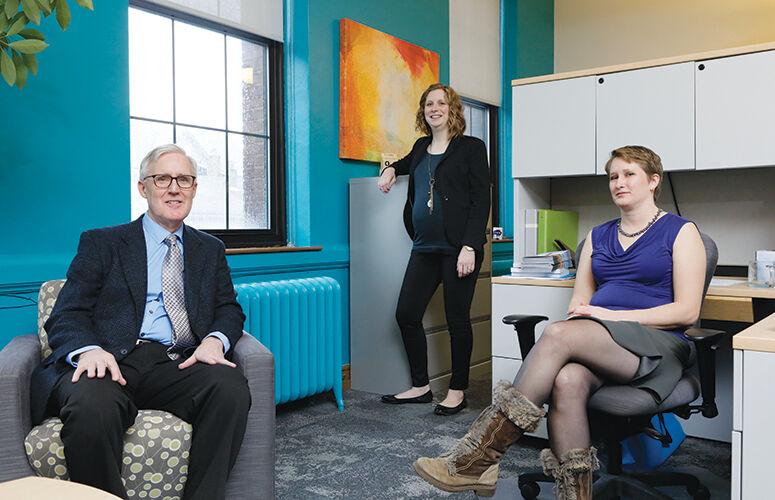 From top: an informal gathering/study area for Houghton students; a tutoring/mentoring session; and Cameron Airhart, Dean of Houghton College, Aimee White, enrollment coordinator and program assistant Janelle Tufts.
The new vision
A burden lifted, First Presbyterian began experimenting with new ways to engage and re-engage that community. The church hosted tours during Allentown First Fridays, got involved with the annual tree lighting, put on classes teaching job search skills, held performances of the Houghton College Choir, and added informal Sunday evening services with jazz music. Organist, choir director, and bookkeeper David Bond has kept music central to the church's mission.
The One Symphony Circle group, with a board consisting of equal halves church and community, stepped up to raise funds to stabilize the tower. The first phase borrowed a method from England, a system of "helifix" anchors. These will be removed after more extensive masonry work gives the tower another century of life. The ongoing work got a vote of confidence last year when First Presbyterian was inducted into the Medina Sandstone Hall of Fame.
The most intriguing thing happening at the church may be the new Houghton program, which keeps the facility vibrant all week with young people of all races, creeds, and colors working with educators and mentors on associates-level higher education. Using a cohort model and keeping costs low, eighty percent of the students are graduating with debt-free two-year degrees.
Last fall, First Presbyterian hired its first permanent pastor in five years. The Reverend Elena Delgado previously served at Westminster Presbyterian on Delaware Avenue and as chaplain at Roswell Park Cancer Institute. Just a month after her hiring, Delgado delivered a memorable sermon on the theme "Winter Is Coming" to a packed sanctuary as the 200-year-old institution welcomed the first Buffalo Mass Mob to visit a Protestant church.
Epilogue
In the final analysis, the turnaround at First Presbyterian is largely thanks to Phillip Gittings.
In 2012, not long after he arrived in Buffalo, Gittings spoke fondly of retiring after a year to Pennsylvania to enjoy some fly fishing with his beloved dog. But his year in Buffalo turned into two, then three, then four. Gittings stopped talking about leaving town, and became a Buffalonian. He developed deep connections with folks in his adopted family. Often, Fridays found him getting together with Jeff Jones, executive director of 716 Ministries. They talked about books, movies, and dogs. "He was good at listening, finding common ground, and de-escalating emotions in meetings," Jones recalls.
A year ago, as his work was bearing fruit, the familial bonds between Gittings and First Presbyterian would be put to the test when he suddenly became very sick. He was in the hospital for thirty-nine days. By the time he was released, it was clear he could only continue his duties with extensive support from the church congregation and staff. Because Gittings could no longer climb the stairs to his Allentown apartment, the church turned the spacious church office into a temporary home. They brought in a bed, a Barcalounger, and his favorite movies; made his meals; and looked after his elderly dog. While this was certainly an unusual relationship between pastor and church, "it didn't seem weird," Banas says. "We celebrated it."
This past February, as a member of the congregation was taking him for a medical appointment, Gittings had a heart attack in the parking lot of the church, and died quickly afterward. Five days later, his dog followed (of natural causes). Delgado, now permanent pastor, wrote to her new congregation, "First Presbyterian Church was stung by the sudden, tragic death of the Rev. Dr. Phil Gittings on February 26. Many have teared up at mention of his name, others have openly wept as they share their stories of friendship and his pastoral care." 
Delgado describes the way the congregation cared for Reverend Phil as, "A grace; to me, it demonstrated the best of the family of God."
For the second time in five years, First Presbyterian has the right leadership at the right time and is poised to continue its two centuries of work and presence in the community.            
Alan Oberst is a frequent contributor to Buffalo Rising, often posting on Western New York architecture, history, and development.