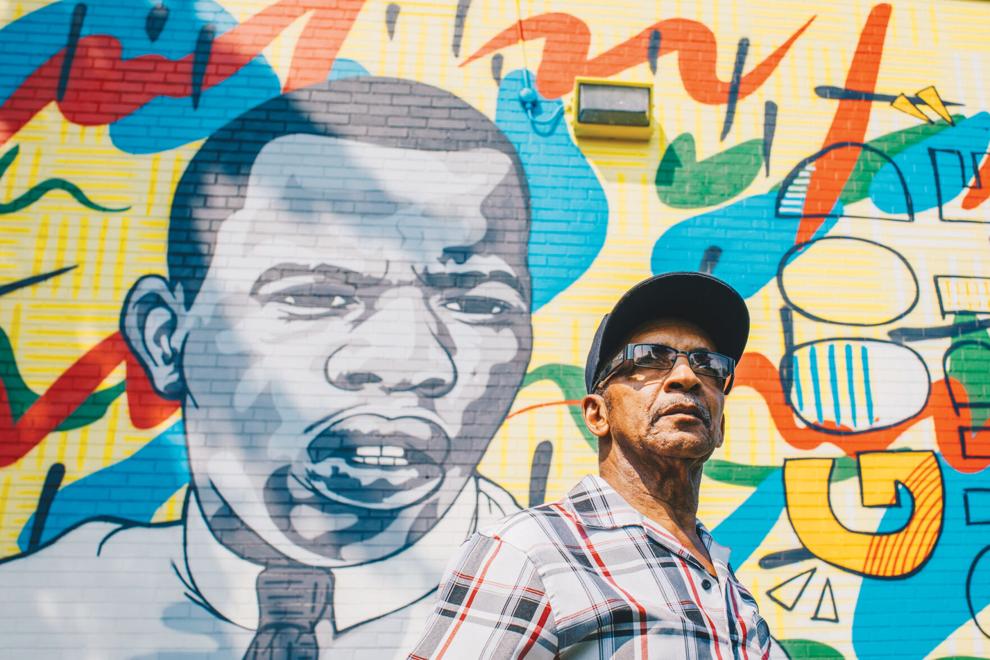 He walks slowly into the basement, sits down and runs his bent fingers along the cardboard. "You have to start right in order for it to end right," Leon Smith Jr. says. He's referring to the meticulous exercise of crafting handmade boats, but it wouldn't be off target to guess he is recalling heavier things, anchors worth pulling up from the waters he's known.  
For the past thirty years, Smith's hands have fashioned custom watercrafts, including iconic wartime pieces and other historic replicas. He never intended the hobby to produce any monetary gain, but his projects have found success as keepsakes and gifts for holidays and birthdays. "It's a challenge, man, I tell you it is," he declares. "Some people can't believe I'm this old and still got a steady hand. It takes my mind off of things−the past, and what's happening now. I escape there."
Southern roots
Just what is a seventy-one-year-old father of six trying to elude? The answer requires a trip back with Smith to a time when he and many others stood up for justice against formidable forces. The unassuming city of Camden lies in Alabama's Wilcox County. It's where Leon Smith Sr. and wife Lydia welcomed fifteen children over the course of their union, the seventh being Leon Jr. When Leon Jr. was ten, the family made the forty-eight-mile trek to start life in a new place, a town known as Selma.
"We went through a lot growing up in Alabama, particularly Selma," Smith says. When asked about his childhood, he describes a period with some pockets of normalcy—running track in school and playing baseball where space afforded—but also one of backbreaking labor without end in sight: "You'd get out of school, if you even went, and head right to the fields to tackle that cotton until the sun had just about set." Smith describes his dad as proud and unwilling to accept the chokeholds of a system built on the premise that blacks were less than, inherently inferior. "He refused to do it, wouldn't work in any fields," Smith says. "I'd be out there with my brothers and sisters, uncles and my grandfather, but Daddy took to truck driving. Him and my momma didn't handle it the same."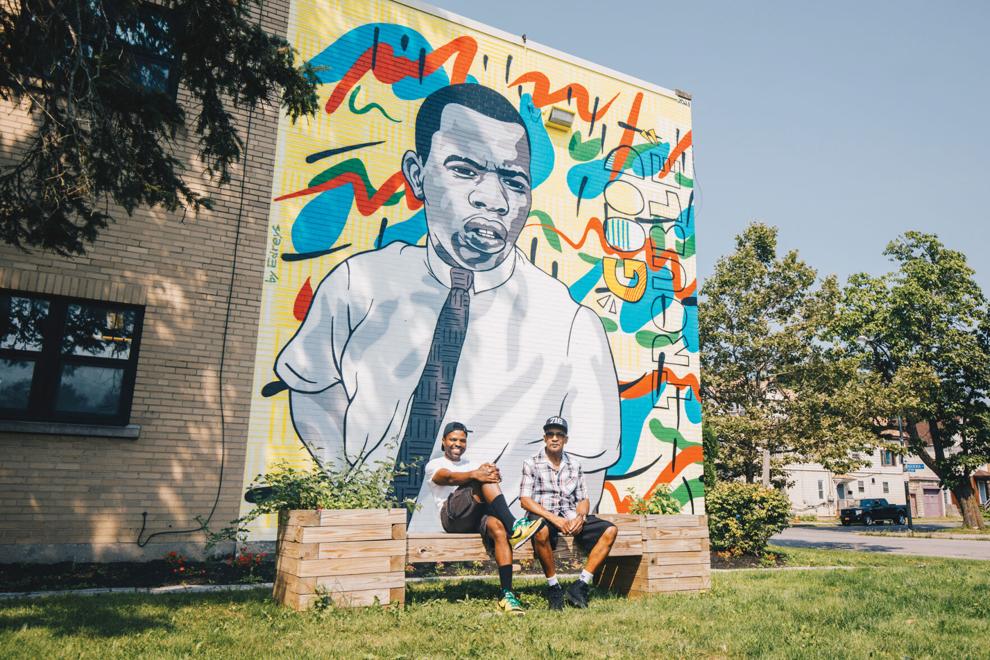 Early activism
Smith's grandfather, Ledell Battle, worked as a cook at the Lambert Café in Selma, a segregated diner owned by Roena Nettles. Battle's four grandsons, including sixteen-year-old Leon, came to eat at the restaurant one late Saturday morning, and they all knew it was protocol to enter from the building's rear, as required for black customers. "It was 1963, and, by that time, I already had the label of 'one of those civil rights n------' and it was like something snapped in all of us," Smith recalls. "I said, 'No, I want to be served up front. I'm not going in the back.'" 
Present at the time was Jack Fuller, a well-known state trooper, who cautioned Smith and his brothers to venture to the designated area, but Nettles stepped in and overruled Fuller, citing her place, her rules as the basis of her decision. "I think it was because she liked my grandmother," Smith says. "Either way, I sat down and had me a hamburger and slice of lemon pie. At the front." 
At that time, boundary pushers, mainly those who sought to integrate "white-only" lunch stations and buck the assigned seat mentality were labeled instigators and met with insult and injury. To make up almost half of the city's population but only represent one percent of its registered voters due to systemic policies and blatant intimidation and coercion from the majority's power structure was documented black reality. 
"Where I was from, it was funny. Many of the white children were raised and looked after by blacks," Smith points out, wagging his index finger, seemingly stunned by the irony. He runs his hand over his thin goatee, the other hand gripping his thigh while he sits up straight, a habit borne from military service. "How was it you'd be the same age as these other white kids and yet we would have to say 'yes sir' or 'no ma'am?'" 
Smith recalls Sunday, September 15, 1963, all too well. Nineteen sticks of dynamite slept beneath the steps on the eastern sector of the 16th Street Baptist Church in Birmingham. A timing mechanism brought those explosives to life and ended the lives of Addie Mae Collins, Denise McNair, Carole Robertson, and Cynthia Dianne Wesley in an act of Ku Klux Klan terror. Racially motivated bombings weren't new, but, unlike the incidents before it, this was the first that claimed lives. The city took on the unflattering name "Bombingham." 
"My buddies and I went to this one Sunday morning meeting. We were prepared to take things into our own hands, an eye for an eye way of doing things, but it was the leaders who preached turning the other cheek," Smith remembers. "It was hard, but people like Dr. King and John Lewis stepped in and we listened."   
Smith says he first came across Martin Luther King Jr. in the state's capitol of Montgomery, where the minister and his Montgomery Improvement Association allies spearheaded the historic bus boycotts. "He was fearless," Smith says wistfully. "Anybody who would go to places where you know they wanted to kill you was a man to be reckoned with." 
Bloody Sunday
The Edmund Pettus Bridge, built in 1940, crosses over the Alabama River, and stretches along US Route 80. It's a through-arch bridge named after a Confederate Army general who went on to become a senator and proud leader of the state's KKK chapter. On a clear day, the sun reflects off the steel arch, a perfect time for sitting and watching the truss gently sway alongside the still waterway. But in March 1965, the scene at the Edmund Pettus Bridge was anything but tranquil. March 7, often referred to as Bloody Sunday, marked the first of three protest marches from Selma to Montgomery. Smith hunkers down in the black metal chair in his Buffalo dining room to share the story.
"It got kind of nasty," he announces, sucking in his cheeks, shaking his head emphatically. "There were dogs, big water hoses. We were being threatened to get run over by firetrucks. To this day, when I hear 'one nation under God,' I don't understand how some people could think we are that much different than them. We didn't want to go into back doors to be served. No, man." 
As Selma's scene became the backdrop for the Voting Rights Act, it showcased the courage and steadfastness of many of its younger citizens. Unbothered by the agitator labels his racist counterparts branded him and others with, Smith served as a transporter to protestors going back and forth between home and the capitol. "They were throwing people in jail left and right," he says. "Even though we were getting knocked down and beat up, a lot of us were determined. We would get right up. People like John Lewis, King and Stokely Carmichael told us to be nonviolent, and that's what we did." 
Asked what went through his mind when he heard of Representative John Lewis' passing in July 2020, Smith has his words queued up: "He did a lot for us in the South. He was an Alabama boy, and, even though he preached nonviolence, there was a fire about him. He represented an idea: hope, but also action." 
Life in Buffalo
After living in various cities in his home state and then Georgia, Smith found his way to Buffalo in 1981. One of his brothers, who lived here, persuaded him to  visit for a couple of weeks, and, while in town, he landed a state job in the Human Services field, eventually retiring in 2012 after thirty-one years of working with disabled individuals. The retired life affords him more time to brew pots of collard greens and ham hocks and whip up cornbread from scratch while listening to blues legends like Johnny Taylor, BB King, and Bobby Blue Bland.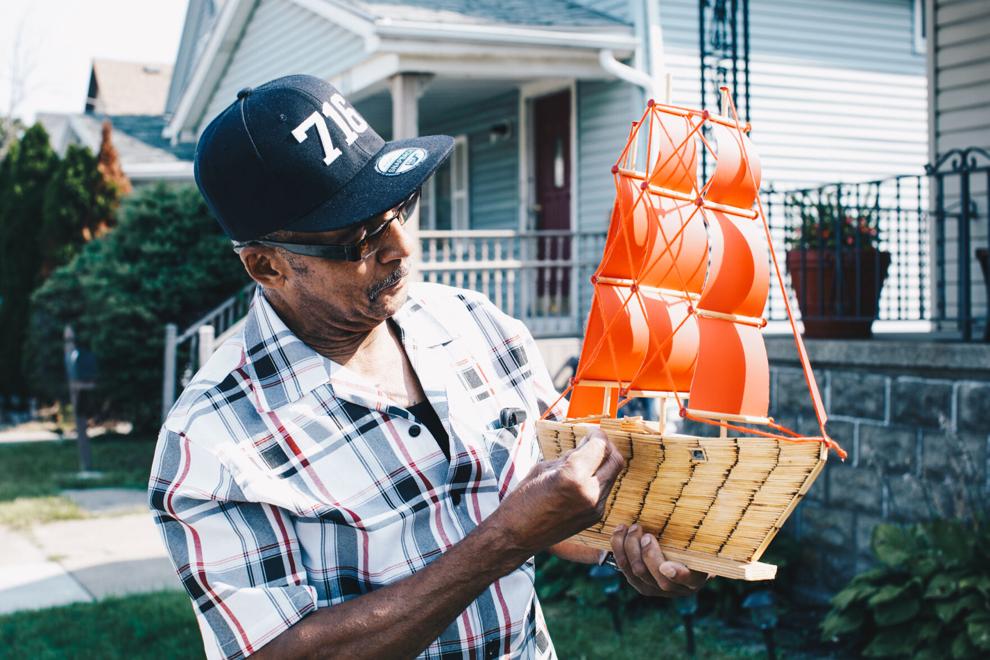 The ship builder believes he may not be around if and when real change takes place, yet when he comes across the younger generation in his troubled neighborhood, his message for them is clear and intentionally repetitive. "Do they know what some people had to go through for them to have the rights they ignore?" he asks before running his hand along a banister near the front door. "All that 'this is my turf' stuff is just stupid. Anybody who gets in a car and lets their buddies boost up their egos to do a drive-by shooting is a coward. We can't be our own worst enemies." Smith points to the various holes in the bannister left from stray bullets, then sits back down.  
At a time when campaign signs are on front lawns and heavily promoted by their adherents, Smith's message is simple and direct. "Get out and vote. Get an education," he pleads. "You see once you get that in your head, can't nobody take that." 
Both Selma and the jungles of Vietnam, where he served for thirteen months, taught Smith that survival requires action, even if his service still left some dreams deferred. Wilcox County's native son says he can't bring himself to sit down and watch films like 2014's Selma. "I just can't watch movies related to all that stuff. There's things I just don't want to talk about," he says before ripping off the Band-Aid.  "Vietnam was nothing compared to Selma. In 'Nam I knew what the deal was, I knew who was there to kill us. At home, you'd think one thing and then another thing explodes. Over there, it was like everybody was the same, white and black brothers fighting to get home."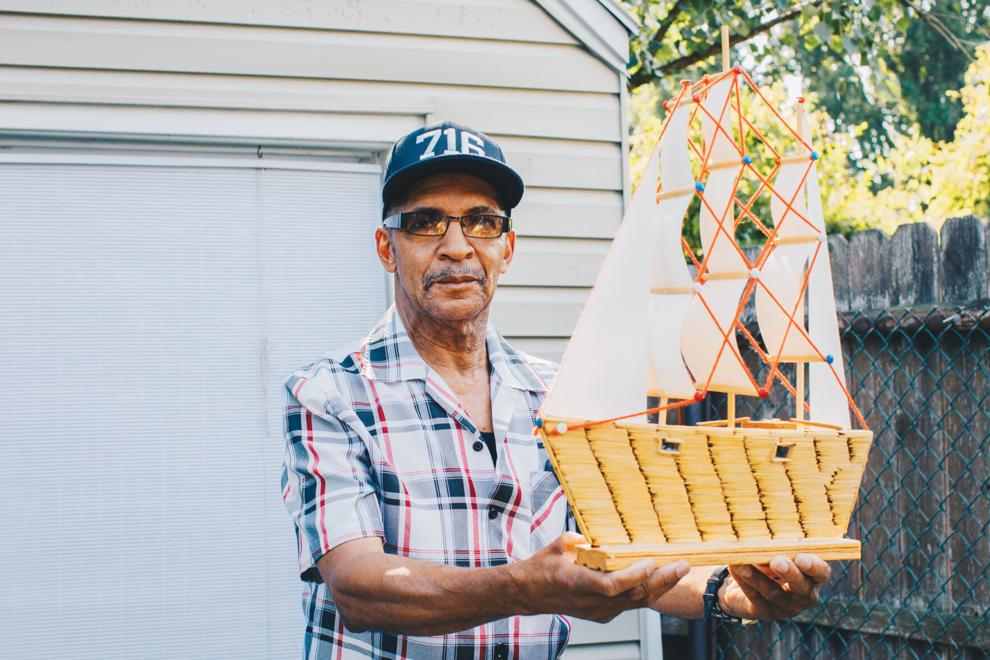 In contrast, Smith is happy to talk about his craft and the intricacies it entails. "Some people like me to use a natural looking varnish on the boats," he says. "Or some people want it painted. Some of them, I put small lights and carpet in. I waterproof it, and you can put her right out there, and she'll be ready to go all day, float on just easy." In languid fashion, the man once characterized as a troublemaker describes the methodical process, stating how crucial it is to measure the cardboard (a given boat's framework) just right and how every matchstick (the boat's exterior) has to lay in harmony or it's back to the drawing board. And only Elmer's glue will suffice. 
Smith says his favorite piece to date is a replica of the Mayflower, which he sold to a local doctor soon after it dried. He doesn't divulge exactly how much he knows about the English Puritan boat and its ten-week voyage to reach the tip of present-day Cape Cod in November of 1620, but when Smith is presented with recently issued stamps commemorating the 400th anniversary of the Mayflower's arrival, he holds the page in front of him, flashes his signature grin and declares, "Hallelujah. What a beauty." 
If Leon Smith Jr. had it his way, he'd redo a boat currently docked in Mobile Bay and let it float in the river, passing under the central span of the Edmund Pettus Bridge. "I'd just watch it move across like we did on those days we wanted to fight, remaining calm in the storm. Does somebody know just how hard it is not to hit somebody back who is beating on you?"