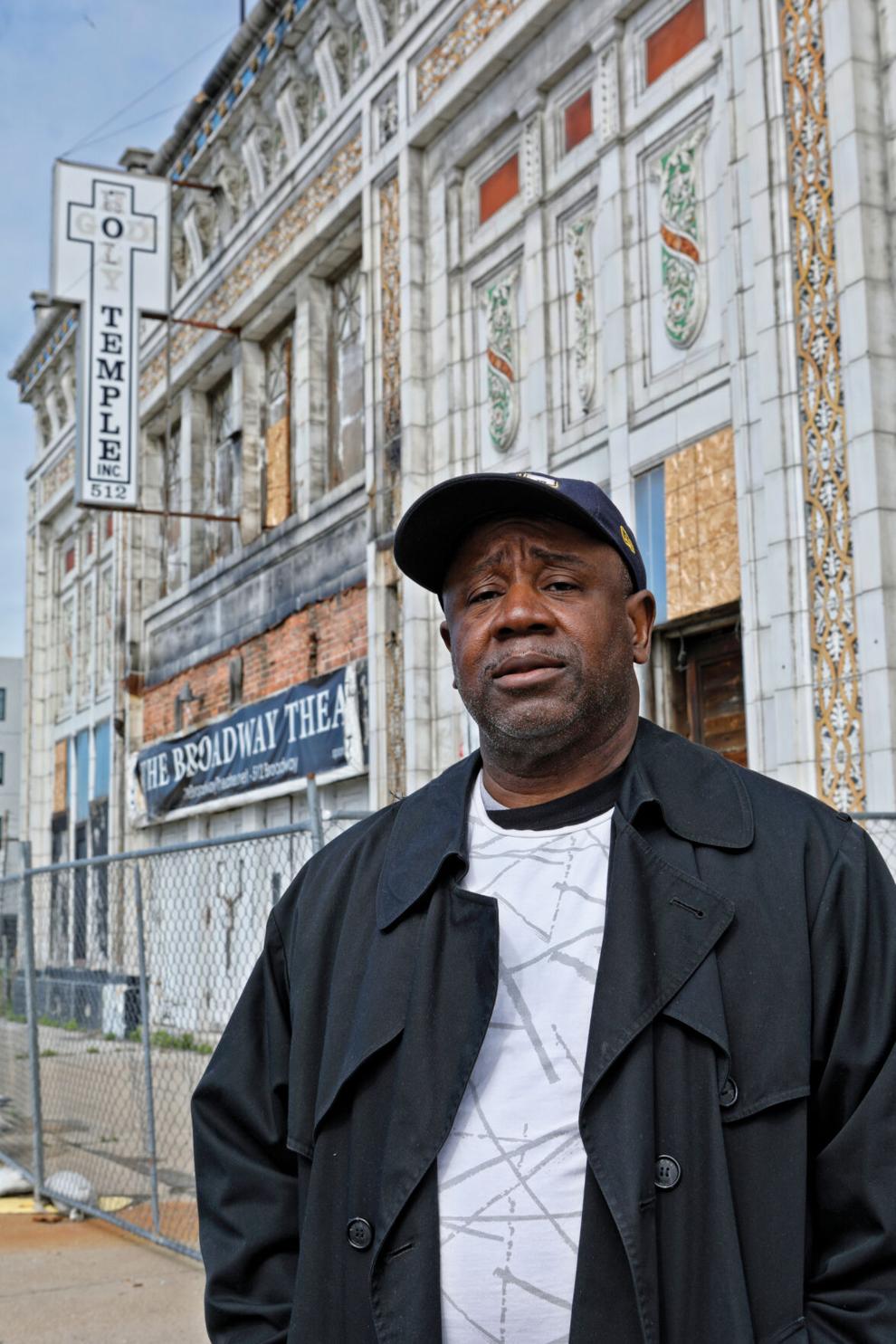 When we last reported on the Broadway Theatre (originally the Sattler Theater) in 2012, there was qualified hope. Western New York Minority Media Professionals (WNYMMP) had taken over the structure at 512 Broadway in 2008, after twelve years of vacancy and four decades of church ownerships before that. Though WNYMMP received some initial funding for basic repairs, the costly restoration has struggled for lack of resources and still needs a new roof. Things are looking up now, thanks to a new program that is directing $5 million in stabilization funds to nine buildings located on Buffalo's East Side.  As one of them, the Broadway Theatre is receiving more than $100,000. With an essential roof repair completed, WNYMMP can continue with masonry, terra cotta, and other restorations that are supported with private funds.   
Entitled the East Side Commercial Building Stabilization Fund, the program is administered by Preservation Buffalo Niagara with support from Empire State Development, and East Side Avenues, a new public/private partnership that is focused on revitalizing four East Side commercial corridors. Other structures receiving funds this year include the Criterion at 625 William, a former factory complex at 343-345 Broadway, a charming Art Moderne structure at 1362 Jefferson, and five other at-risk buildings. Not all of them are technically historic, which has often been a requirement for funding in the past. This program is different; its goal is not so much to preserve history as to restore the fabrics of these neighborhoods so they are better places to work, play, and live.
The Broadway Theatre, however, does have solid historic credentials. Department store magnate John G. Sattler built the structure as a 928-seat movie palace in 1914. Like the North Park, the Savoy, and Shea's Seneca, it was designed by Henry and William Spann. The theater is noted for its Beaux-Arts style, ornate white glazed terra cotta facade, fanciful under-eave brackets, leaded glass, and decorative, Art Nouveau-influenced friezes. The magnificent façade is still a showstopper. WNYMMP plans to use the structure as a base of operations for its ongoing mission of mentoring young people in the media, arts, and entertainment industries. "This is a nice boost," says WNYMMP director Michael Quinniey. "After the roof and the terra cotta work, we'll put the interior back together. A lot of it is timing. When you don't have the resources, you have to use vision. You have to envision where development is going to be and then go there."
Visit thebroadwaytheatre.net for more information about this project.