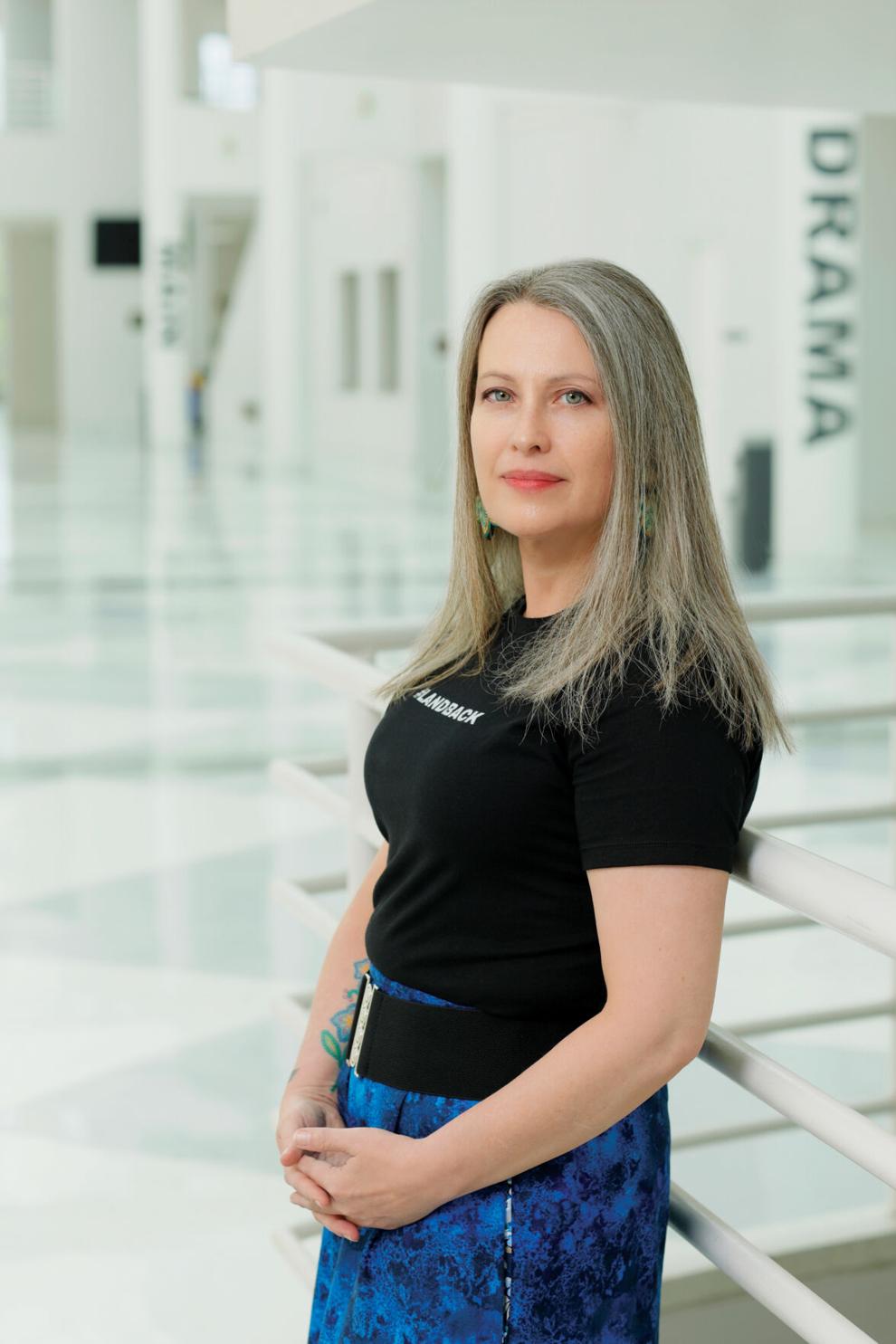 Name: Theresa McCarthy
Current title: Chair, Indigenous Studies,  University at Buffalo
Age: 52
"For the Haudenosaunee, the land doesn't belong to us, we belong to it, and we hold it as a sacred trust for our future generations." This statement, at the heart of Indigenous philosophy, also informs the University at Buffalo's new degree-granting program in Indigenous Studies. Dr. Theresa L. McCarthy, an Onondaga nation, Beaver Clan citizen of the Haudenosaunee Confederacy and a member of the Six Nations of the Grand River Territory in Ontario, heads the new department. McCarthy, whose doctorate is in cultural anthropology from McMaster University in Hamilton, Ontario, notes that its program of study is not really new—"it's actually old, it's ancient." 
Who are the Haudenosaunee?
The word translates to "they build a house" in reference to our nations coming together as one. Haudenosaunee comprises six nations: Mohawk, Oneida, Onondaga, Cayuga, Seneca, and Tuscarora. The City of Buffalo is located on the land of the Seneca nation. As Haudenosaunee, we remain a separate and distinct political entity from Canada and the United States.
Tell us about the genesis of Indigenous Studies at UB
and your involvement.
I came to Buffalo on a predoctoral fellowship program in 2000. I just fell in love with Buffalo, with the vibrant Native students and grad student association at UB. I worked with John Mohawk and Oren Lyons, not only great thinkers and theorists, but also activists and leading advocates for Indigenous peoples. They were encouraging young Indigenous scholars; the thinking was that we could and should be experts on ourselves, producing our own scholarship. I was also doing work with my own community, looking at the teaching of traditional knowledge. I made it back here in 2007, when I was hired as a visiting assistant professor in the American Studies department. Momentum had changed somewhat by then, and we had to recreate the earlier  energy, when UB had been known as one of the strongest Indigenous Studies programs. Reclaiming that was a grassroots effort, with Native graduate students, Indigenous alumni, and our community working together.  I was invited to apply for a Mellon grant, which we succeeded in getting—$3.17 million to move our program forward. 
Your book won Best First Book Prize from the Native American and Indigenous Studies Association.
Tell us about it.
In Divided Unity: Haudenosaunee Reclamation at Grand River [2016, University of Arizona Press] examines how Haudenosaunee women, traditionally leaders in the stewardship of the land, and in spite of settler state and civilian violence, upheld their responsibilities to the land and to sustaining the life of creation on behalf of our future generations. This involved occupying a construction site in Caledonia, Ontario and reclaiming unceded land.
The way things are going, people still see land in terms of profits, extracting resources, something to buy and sell—a colonial way of doing things. People don't have an alternate vision of how things could be. Native people do have that vision; they always have. Thinking about land as a relationship, and our responsibilities to the land, is our way of thinking. It is an essential paradigm shift for non-Indigenous people.
What is special about the
"new" UB program?
This will become both a home and a hub of Indigenous research and teaching at UB. The duality of this "home and hub" structure acknowledges Indigenous Studies as an academic discipline in its own right, as well as a necessary component of other areas of study. The structure is also conducive to supporting Indigenous faculty and student recruitment retention. The department will foster community building among Indigenous scholars and students at UB, providing greater opportunities for campus-wide dialogue, interaction, and networking. Indigenous Studies units will promote research and educational initiatives aligned with community priorities to ensure the continuity of Indigenous knowledge and languages, and the health and sustainability of Indigenous peoples, lands, and waters. As we are building our own department, we see how important these studies are across the university, because, across the educational curricula, Indigenous people are still excluded. When people look for examples of white supremacy and systemic racism, this is it. Excluded. In your own homeland. Our new department will recognize how supporting the aspirations and well-being of Indigenous peoples can be beneficial for all. Social justice advances a higher quality of life for all its citizens.