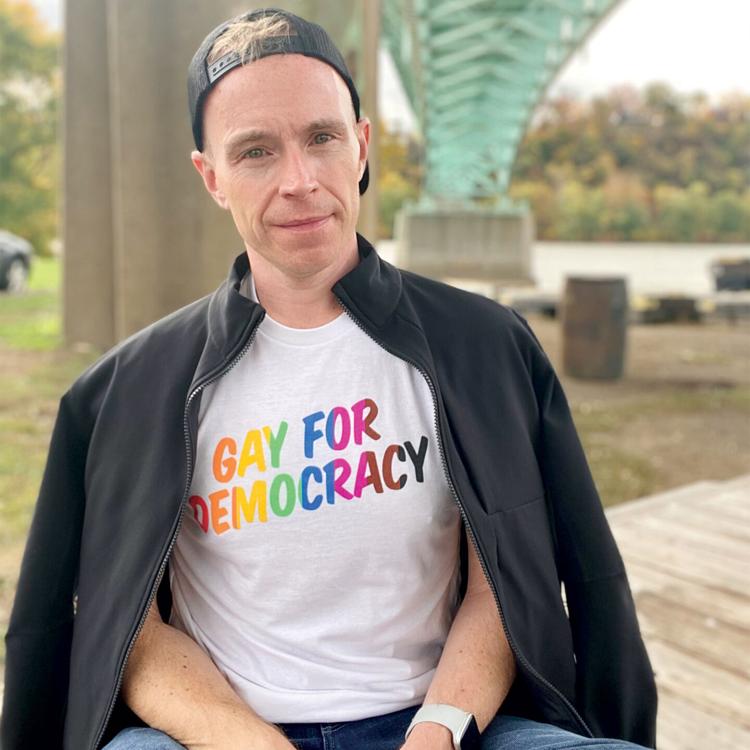 When I went to sleep the night of November 8, 2016, around 10:30 p.m., I did not like the early election results but slept easy with the certainty that when I woke up, I would look at my phone to confirm what I already knew.
Instead, the morning of November 9, I felt the same as a lot of people I know. Shocked. For the next weeks, I couldn't get past it. I told myself that as a New York resident, I had done everything I could, which, when I was really honest with myself was: nothing.
In November 2019, I saw a social media post, a picture of the Electoral College map and an encouragement for anyone who wanted to see a change in administration to begin thinking about where they would be and what they would be doing over the year and the week preceding the next presidential election. 
I remember learning about the Electoral College in third grade. I thought it sounded bonkers. I asked the teacher if it was possible for the person with fewer electoral votes total to still win. She said it was unlikely but possible. I had so far voted in five presidential elections and in two of them, the person who won the popular vote did not win.
As a New York resident, to do everything I could, I needed to go somewhere else. I looked at Vote Save America and adopted Pennsylvania. I learned about the strategy for my adopted state and made a lot of plans before our ongoing health situation changed them. By June, I realized I probably wouldn't be making summer trips to work on voter registration or a long final push during Election Week.
On July 11, I tried the virtual phone bank with low expectations for how receptive people would be and how impactful it would feel. That became the first of fourteen Saturdays in a row talking to people about what was on their minds, and their plans to vote during a time when there were new options in their state to navigate.
Sure, lots of people hung up on me. But a surprising number were glad someone called. It was common to hear that talking about issues with a stranger could feel easier and less charged than discussion with people they knew.
People who were undecided (yes, they existed) asked questions about the issues that were the most important to them, and we talked through where the candidates stood. They could decide for themselves who had their eyes on the ongoing health crisis, access to education, and equity.
Pennsylvanians were aware that they had new voting options, but there were things they wanted to confirm about process, deadlines, locations, and what to do if they requested a ballot and didn't receive it in time. Calls got long as people took the time to write down information, but also to share the discussions they encountered in their day-to-day lives. They might not have been making calls, but they were making plans to use and share the information.
In October, just as I had given up on hitting the streets for a final ground push, I heard from an organizer that one was coming. I immediately made plans to head to Allegheny County, specifically the suburban and semi-rural areas north of Pittsburgh, to knock on doors throughout those final three weeks.
The night before I took my first long walk, I was in my hotel room thinking it was nuts to be in an unfamiliar place to step up to the doors of people I'd never met at a time like this. But just two hours into it, I could feel the purpose, and I felt welcomed. As I walked through thirteen towns and neighborhoods, people shared a lot. Sure, there were some awkward moments with people who felt differently from me, but nowhere near as many as I expected. There were good laughs and a few heartfelt cries.
I didn't feel like I was there to tell people what to do but to find common goals and interests, and then make plans toward achieving them. There are so many I'll remember, but one in particular sticks with me. It was an unseasonably warm late October evening in Brackenridge. I knocked on a door and left materials when the person didn't answer. I proceeded to the next house on my list, three doors down. A woman on one of the porches in between smiled and waved. I returned the wave but kept walking. She invited me back to look at the extensive Halloween decorations she had.
"I know what you're here for," she said, introducing herself as Mary Kay. "Have you read at all about the white suburban women who gave Pennsylvania to Trump last time?" Her voice shook. She told me she had been one of them.
"I'm in a different place now than I was back then, but I don't know about my daughter," she went on, maintaining eye contact and reaching for the literature in my hand. "I think I should try to talk to her again. If I really plan out what I want to say, I can talk to her one more time…"
When I went to bed on Tuesday November 3, 2020, I felt content. This time, I had done everything I could. When I woke the next morning, the numbers looked bad, but I still felt good. It wasn't the Pennsylvania I had seen in my thirteen days there or all the weeks on the phone. People like Mary Kay had changed their minds. They talked to their networks one last time. And I just knew they were going to come through.