Built in 1903, the Jefferson Avenue Shul is the oldest synagogue building still standing in Buffalo. It has kept its exotic onion dome and its distinctive corbelled honey-colored brick façade. The interior retains its elegant arched ceiling, graceful columns, and the horseshoe-shaped balcony where the women of the congregation sat. On the other hand, a compromised roof section has led to the collapse of the east stairway, two of its prominent exterior finials are missing, and the ark of the covenant has been partially disassembled.
This Buffalo landmark was also under a demolition order until a few weeks ago.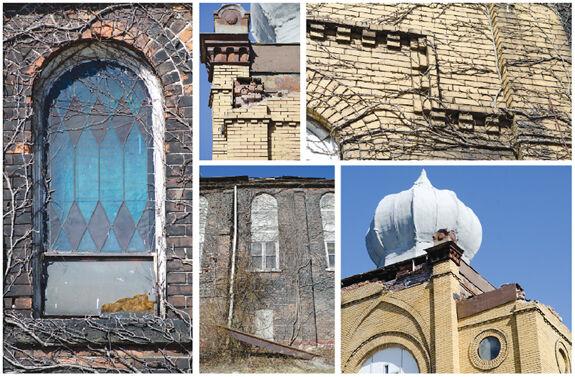 The structure, officially built as the Ahavas Sholem Synagogue, was designed by architectural firm A. E. Minks and Son in the Moorish Revival style. It features a prominent arched central entrance, a large round window above the entrance that once was in the shape of a Star of David, and a grand sheet metal onion dome surmounting the roof's elaborate cornice. Even in its current condition, with the windows obscured and their original stained glass missing, the former synagogue makes quite a statement on this stretch of Jefferson Avenue, which is dominated by modern housing developments.
In the 1996 application for local landmark status, which was successful, researcher Tim Tielman speculates that an earlier nineteenth-century Italianate building may have been adapted by the Minks firm to create the synagogue. Tielman states that "The steeply pitched roof, round headed openings, and Florentine window sash all indicate an Italianate structure. … it is likely that [A. E. Minks and Son] were responsible for the redesign of the front section." Whether Tielman's suggestion is correct or not, there is no question that the comparatively huge dome does appear somewhat incongruous with other elements of the structure—though most would agree that the incongruity adds to the building's distinction.
The application for landmark status was made under the auspices of the Greater New Hope Church of God in Christ, a Pentecostal congregation that was the last to use the now-vacant structure, and still owns it. The building ceased to be used as a synagogue in 1962, and was taken over by two subsequent Pentecostal congregations. Now based in Arizona, Reverend Jerome Ferrell of the Greater New Hope Church of Christ has been providing access to the building so that parties interested in its preservation can assess its problems and the possibilities for reuse.
Those efforts have been coordinated by community activist and photographer David Torke, who says, "I convened the first meeting at the Jewish Community Center earlier this month and invited ten local preservationists to wrap their minds around what could be done to reverse course and save the synagogue." Torke also writes the blog Fix Buffalo Today (fixbuffalo.blogspot.com), which focuses on preventing blight and promoting preservation on Buffalo's East Side. In his blog post on the former synagogue, he explains, "We are currently establishing a series of technical reports—based on architectural and engineering studies—to determine the structure's overall physical condition."
Torke is joined in his efforts by Buffalo Common Council Member Darius Pridgeon, historian Chana R. Kotzin, and Tielman, as well as others who want to keep the synagogue from ending up as landfill fodder.  There have been several interesting proposals floated as reuse ideas, including a museum of sorts for artifacts relating to Buffalo's East Side Jewish community. In its day, the Jefferson Avenue Shul was known as the most stylish of the urban synagogues. It could seat as many as 700 on high holidays, and its officers were known to wear cutaways and silk hats. Some members of the synagogue's former congregation and local Jewish organizations have made efforts to keep its history alive, and an abortive attempt to restore the building took place in 1996, at the time of the local landmark application. It is hoped that a successful application to the National Register of Historic Places would bring financial help to the current restoration drive.
Do you know someone who attended the Jefferson Street Shul? If so, or if you're interested in this preservation effort, contact David Torke at davidtorke@gmail.com.
Elizabeth Licata is editor of Buffalo Spree.
This series is undertaken in collaboration with the Facebook groups Preservation Ready Sites and Buffalo's Young Preservationists. Thanks to David Torke, David Steele, and Frits Abell. Research assistant is provided by Dana Saylor, Old Time Roots. Resources include Kotzin, Chana, "The Jefferson Ave. Shul and the search for East Side memories," Buffalo Jewish Review; Simon, Peter, "One Time Synagogue Forges Alliance," Buffalo News; Tielman, Tim, Greater New Hope Church of God in Christ (former Congregation Ahavas Sholem) Local Landmark Designation Application; and Torke, David, "City's Oldest Synagogue: threatened with demolition," Fix Buffalo Today.