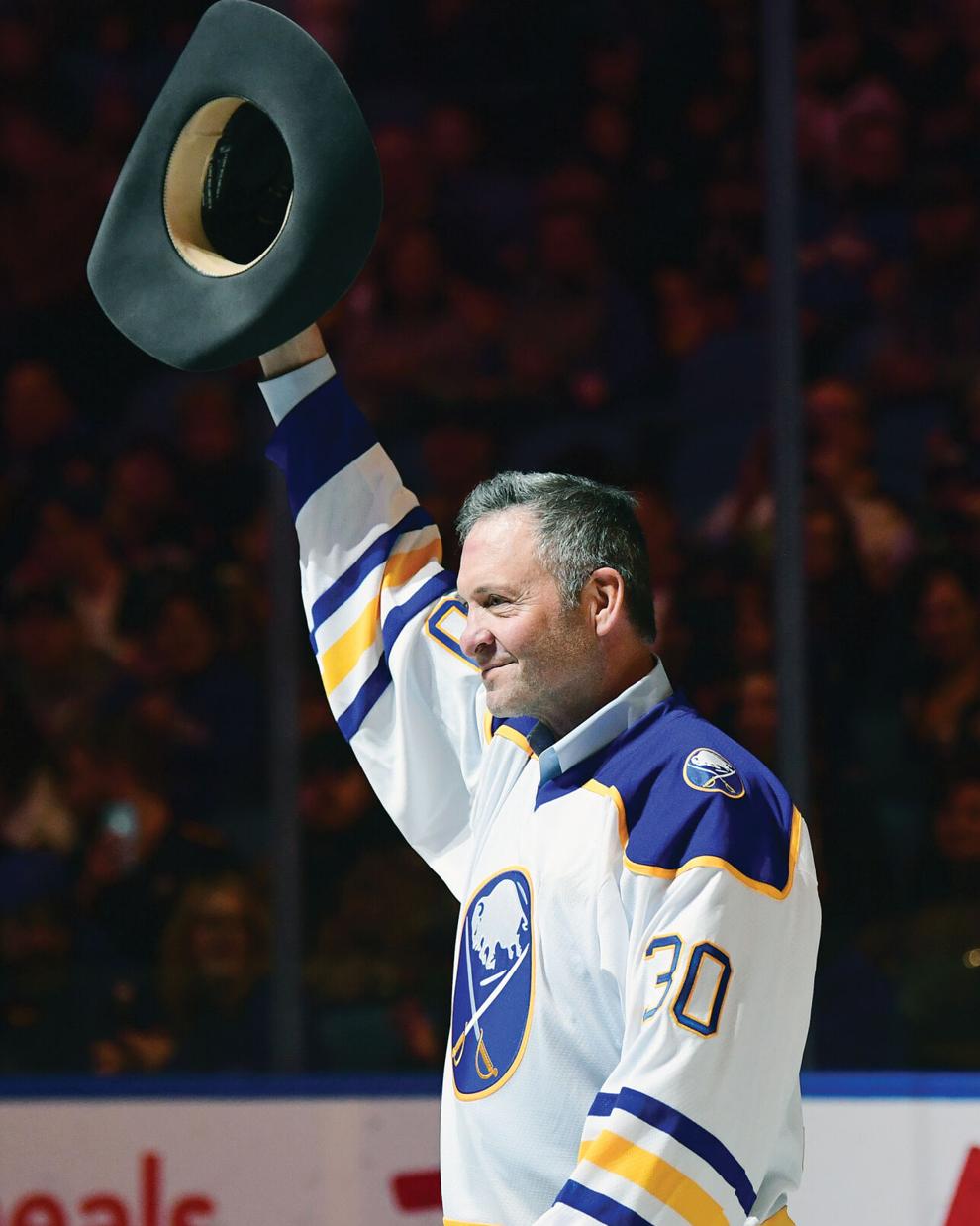 October 2014, just days before his book, A Matter of Inches, would be released, Clint Malarchuk stood outside his barn in Gardnerville, Nevada, nervously talking on the phone to his co-author, Dan Robson, about the impending release.
In the gritty memoir, Malarchuk bared his soul, detailing his harrowing brushes with death and lifelong struggle with mental illness. The ex-Sabres goalie is of course best known for having his jugular vein sliced by a skate blade on March 22, 1989 and nearly bleeding to death on Buffalo's Memorial Auditorium ice. It's often forgotten he was an NHL All-Star.
Incredibly, Malarchuk played ten days after the accident, but had no idea he had developed post-traumatic stress disorder from it. He was also battling with obsessive compulsive disorder, alcoholism, and anxiety.
The lethal combination led to further brushes with death, including a 2008 suicide attempt; the bullet Malarchuk shot into his mouth is still lodged in his skull. Understandably, the retired pro was concerned how an unvarnished account of his turbulent life might be received.
"I was just petrified and anxious and thinking, 'I can't believe I just threw my whole life out there,'" Malarchuk says. "I mean, I told a lot more than I think most people would disclose. I'm happy I did it now, but, at the time I was like, 'Oh my God, you're going to be judged,' and this and that. But the feedback..."
The feedback has been overwhelmingly positive. The book—"It's not just a hockey book, it's a life book"—became a Canadian bestseller, and Malarchuk learned just how many people struggle with mental illness.
"I advise people, if you're struggling, don't get stuck in guilt and shame and thinking that you're the only one," he says. "You're not, oh my Lord. Trust me, after my book and all the feedback, there's a ton of Clint Malarchuks out there. Get to a counselor or a therapist."
In the past six and half years, Malarchuk has become a visible mental health advocate, giving talks and befriending people all over North America. His ten-year NHL career has given him a platform: "The demons you've fought and still sometimes fight give you something to talk about where people need to hear," he says.
Malarchuk, who's now a horse dentist and chiropractor, hears every day from people who struggle. They contact him on Facebook, through his website, or by phone. He spends much of his day listening to and helping others.
"My wife [Joanie] would always say, 'Clint, you know, it's eight o'clock at night; you're still on the phone with somebody,'" he says. He hasn't given any in-person talks during the COVID-19 pandemic but, not surprisingly, the pandemic has prompted more calls and messages.
"People who aren't mentally ill are still going through so much distress, I guess I'd call it, with anxiety, with depression, with fear of losing their job or being laid off or losing their businesses," he says. When a friend suggested Malarchuk become a life coach, he was intrigued.
"He said, 'Clint you should get certified, you'd be great at it. You're helping people all the time, you're on the phone with people in distress, all these things.' Why don't you learn how to do it professionally?'" Malarchuk recalls. "So I thought, 'Well, I've got this downtime with the pandemic.'"
At sixty, the former goalie completed the coursework to become an advanced certified life coach. His niche is helping people experiencing OCD, PTSD, anxiety, and depression. Malarchuk understands what people might be feeling during the pandemic. He says he wakes up some mornings with anxiety, in a deep depression, or overwhelmed by the day ahead. He recommends working out and meditating—two things he tries to accomplish each day—as part of a routine.
Service has also become a major part of Malarchuk's life. "Being in service is probably the biggest thing I can recommend," he says. In addition to his public speaking and one-on-one work, he gives time to a sled hockey program in Reno, the USA Warriors Ice Hockey teams, and other causes close to his heart.
"Being in service gets me out of myself into helping others," he says, "which helps me."