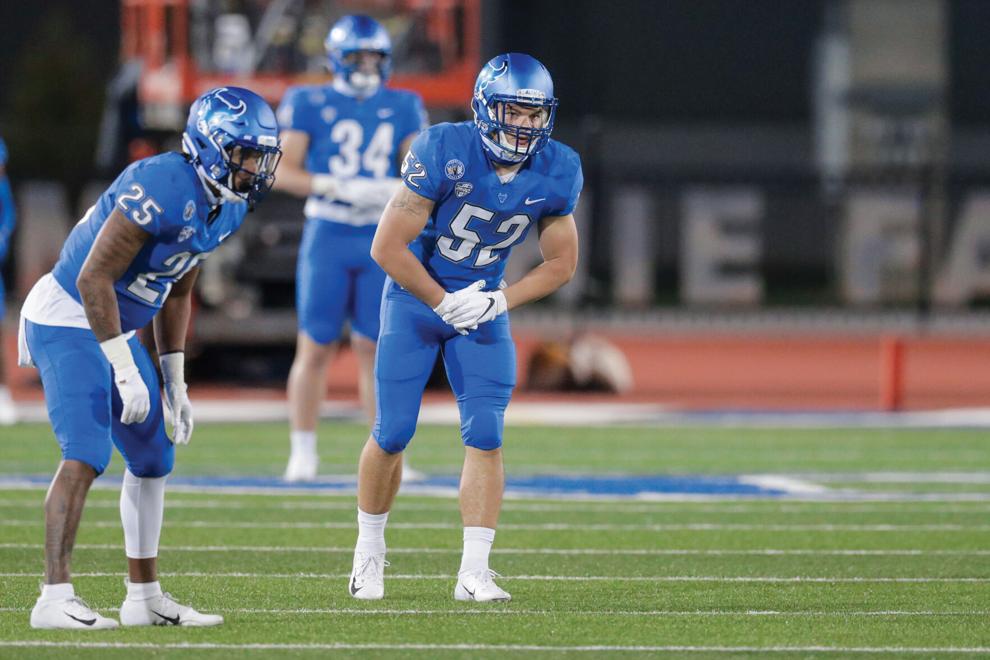 Practicing at UB Stadium on August 7, Shaun Dolac had barely heard that Maurice Linguist was looking for him when screams from excited teammates drowned out the coach's words. As they swarmed Dolac and lifted him on to their shoulders, the sophomore linebacker realized what all the fuss was about.
"It was one of those storybook moments where I just knew I was put on [scholarship]," says the West Seneca native. When Dolac was in the air, he pointed up to the sky. In 2016, his father, John, one of his early football coaches, had passed away following a two-year battle with esophageal cancer.
Following those emotional moments on the UB field, a tearful Dolac called his mother, Colleen, to tell her he'd earned a scholarship. It was a moment both had been hoping for, but neither was sure it would ever come. When Dolac drove up to the family's home at 11 p.m., it had been decorated in blue and white, the school's colors, and AC/DC's "Thunderstruck," John's favorite game day song, was playing. "He must've hugged me ten times," Colleen says.
By joining the Bulls as a preferred walk-on in 2020, Dolac gambled that his talents and work ethic would be rewarded with a scholarship someday. The freshman was Buffalo News' Player of the Year and an All-Western New York First-Team selection for West Seneca East in 2018, setting school records as a senior by rushing for 1,997 yards and making 157 tackles.
Still, Division 1 football programs did not show much interest in the six-foot-one, 210-pound dual threat. Colleen says her son turned down a full ride to play lacrosse at the University of Albany, because he wanted to pursue his football dream. But without his father, she adds, Shaun was a little lost after high school:  "He didn't know what to do. Nobody offered him anything."
So Shaun played football for one year at Milford Academy, a prep school in New Berlin, before returning home to play for Buffalo. "I took a chance; I bet on myself and I wanted to prove myself right," the twenty-year-old says of walking on.
Shaun played all seven games during Buffalo's wild 6-1 campaign in 2020, mostly as a special teamer. Then coach Lance Leopold and his staff departed for the University of Kansas, following a season in which the Bulls finished at number twenty-five nationally.
"So I was like, 'Oh, here we go,'" Colleen remembers. "Shaun's going to have to prove himself again." But her son's passion quickly made a positive impression on incoming coach Linguist, who was moved watching his team celebrate Dolac's achievement. "It was a great moment," says Linguist, who was hired May 7. "Just the love that our team has for him and the humility that he has. He goes about his business every day just with a smile on his face. He steals every rep he can get. He's at the front of every single line. He busts his butt on special teams every single day. It's nothing that we did; it's something that he did. And we were just happy to reward him for his hard work and his efforts."
The COVID-19 pandemic, of course, has put a strain on athletic departments. Linguist says athletic director Mark Alnutt and deputy athletic director Nate Wills made Dolac's scholarship a reality.
"Our administration did a great job of allowing us," Linguist says. "We didn't give anybody anything. It's something he earned, and it's a message to all the younger players in our locker and even some of the walk-ons in the locker room, that when you do right and you work your butt off every day, there's a place for you here in Buffalo. Shaun Dolac, he's one of the guys that did that."